GST Registration- An Overview
GST Stands for Goods and Services Tax. It is a form of indirect tax which replaced host of other indirect taxes that were prevalent in India. It was launched in the year 2017. Since then the goods and services are taxed under a single legislation called GST. In simple words GST is a form of tax that a customer bears when he or she purchases any goods or services. Here the tax is not directly paid by the customer to the government but it is levied on the manufacturer or seller of goods or provider of services. The registration under GST is necessary for business entities who fall under the eligibility criteria of GST Registration. The procedure for GST registration is completely an online process. Hence businesses would not have to go offline to carry out this form of registration.
Why was the concept of GST introduced?
The concept of GST was introduced to fulfil certain objectives such as-
The concept of GST was introduced to fulfil the vision of one nation one tax. Earlier various indirect taxes existed but now GST has replaced all of them. Some of the indirect taxes were prevalent in the form of service tax, VAT, etc.
To eliminate cascading effect of taxes
One of the key objectives of GST was to remove cascading effect of taxes. Earlier taxpayers were unable to set off tax credits of one tax with other which led to cascading effect of taxes. GST was introduced to eliminate this cascading effect of taxes which existed earlier.
GST was also introduced to curb instances of tax evasion. Under GST, taxpayers can claim input tax credit only on invoices uploaded by respective suppliers which reduces the chances of claiming input tax credits on fake invoices.
GST is a consolidated tax which is levied on both goods and services both which can increase tax-registered businesses thereby increasing the tax base in India.
GST Terminologies
The Aggregate value of total sales, supply and export of taxable and non-taxable goods and/or services by a person (with PAN) excluding taxes is called aggregate turnover.
Application Reference Number
ARN is a unique number that is generated when a taxpayer has successfully registered on the GST portal.
A person who undertakes transactions occasionally involving the supply of goods and/or services in the business, whether as principal, agent or in any other capacity, in a taxable territory where he doesn't have a fixed business place.
The supply comprising of two or more goods and/or services, which are bundled naturally and provided together, one of which is a principal supply.
GST composition scheme was implemented under the respective State VAT Laws. GST composition scheme ensures greater compliance without the need for maintaining records.
GSTN stands for the Goods & Services Tax Network. It is a non-profit, non-government entity that provides IT infrastructure services to the Central & State Governments, taxpayers & other stakeholders for implementation of the Goods & Services Tax.
GSTIN stands for Goods and Services Tax Identification Number. It is a 15 digit, unique registration number provided to taxpayers registered under GST.
GSTR is a document which comprises of details of the income that is filed as per the law with the GST department. All returns must be filed online. GSTR is used by tax authorities to compute the total tax liability of the taxpayer.
Input Service distributor
It is the office of the supplier of goods and/or services that obtains tax invoices issued under section 31 of the Act toward the receipt of input services and issues a document for distributing the credit of SGST, CGST, UTGST and/or IGST paid for the said services.
It is a tax credit given to offset the collection of Goods and Services Tax.
Generally, when a supplier supplies goods, the tax is levied upon the supplier however in some cases the tax is levied upon the buyer of the goods. This is called reverse charge.
Types of GST
There are four types of GST in India which have been discussed below-
CGST stands for Central Goods and Services Tax. CGST is levied on the movement of goods within a state. This type of tax is collected by the Central Government on an intra-state sale.
SGST stands for State Goods and Services Tax. This form of GST is collected by the State Government, which is applicable on transactions done in its geographical boundaries. The features of SGST may vary state-wise as each State Government has individual acts. However, certain characteristics such as taxable events, valuation, classification of goods & services, are similar across the nation.
GST stands for Integrated Goods and Services tax which is applicable to interstate transactions, i.e., transactions made between two states. It is levied on supplies of products and services between two states as well as on exports and imports (IGST + customs). IGST is collected by the central government.
UTGST stands for Union Territory Goods and Services tax. It applies to the transaction of goods and services in the Union Territories. IGST is levied on the supply of products in UTs such as Andaman and Nicobar Islands, Lakshadweep, Daman Diu, Chandigarh, and Dadra & Nagar Haveli. UTGST is levied along with CGST.
Eligibility for GST Registration
A business entity involved in the buying and selling and good of services have to register for GST provided they fall under the eligibility criteria for GST Registration. Those business entities whose annual turnover is more than Rs.20 lakhs (for supply of services) and Rs. 40 lakhs (for supply of goods) needs to register under GST.
| | | |
| --- | --- | --- |
| CATEGORY | REGION | AGGREGATE ANNUAL TURNOVER (INR) |
| Services | Special Category States- Assam, Arunachal Pradesh, Manipur, Meghalaya, Mizoram, Nagaland, Sikkim, Tripura, Uttarakhand & Himachal Pradesh. | 10 Lakhs |
| Services | Rest of India | 20 Lakhs |
| Goods | Special Category States- Assam, Arunachal Pradesh, Manipur, Mizoram, Meghalaya, Nagaland, Tripura, Sikkim, Uttarakhand & Himachal Pradesh | 20 Lakhs |
| Goods | Rest of India | 40 Lakhs |
Business should get GST registration if they fall under any of the below mentioned categories:
Any entity that is involved in supplying goods from one state to another should get GST registration in India.
Individuals supplying goods or services through e-commerce platform needs to obtain registration under GST. However, as per a recent notification, e-commerce sellers/aggregators do not need to register in case where total sales are less than Rs.20 lakhs.
Casual taxable person should also get GST registration. Casual taxable person refers to a person who supplies taxable goods/services in a taxable territory where he doesn't has a fixed business place.
Exempted from obtaining GST Registration
The following individuals & entities are exempted from obtaining GST Registration:
Agriculturists;
Persons falling under Threshold Exemption Limit;
Persons making Nil-Rated/ Exempt supplies of goods & services;
Persons making Non-Taxable/ Non-GST supplies of goods & services
Activities that are neither Supply of Goods nor Services;
Persons involved in making only supplies covered under reverse charge.
Benefits of GST Registration
The benefits of obtaining GST Registration has been specified below:
Businesses that have registered themselves with the requirements of GST would be recognised in the eyes of the law. Public and consumers will recognise businesses that have registered as per the requirements of the government.
Relief from Double Taxation-
Any business that is registered with GST as per the government requirements would get reliefs and exemptions from double taxation.
Reduced number of compliances
The number of compliance requirement has reduced considerably as compared to earlier tax regime.
Increase in revenue for Government
GST has increased the prospects of revenue generation for the Government.
With the introduction of GST Registration the efficiency of logistics has improved.
Documents required for GST Registration
The following documents will be required:
Digital Signature Certificate;
Aadhaar card copy of the proprietor/partners/directors;
Passport size photograph of the proprietor/partners/directors;
PAN Card copy of business entity;
Latest Electricity bill/ bill of any tax paid / Municipal Khata Copy;
If place is rented, rent agreement will be required, else consent letter is sufficient;
Bank Statement/ cancelled cheque copy/ copy of first page of passbook;
Entity should provide registration certificate with Memorandum of Association- Articles of Association / LLP Agreement or Partnership Deed as applicable.
Procedure for GST Registration
GST Registration in India is entirely an online process. If you are eligible to get GST registration then you can secure this registration by following the online process through the GST portal.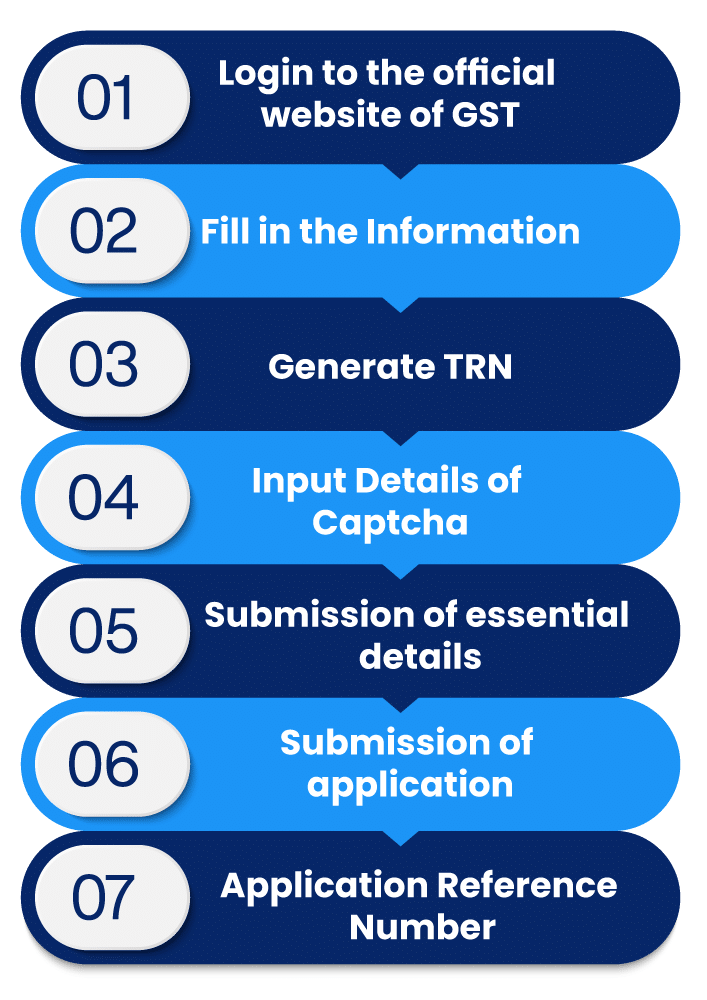 Login to the official website of GST-
The applicant should first login to the official website- https://www.gst.gov.in/ Then the applicant has to click on the services tab after this, the applicant has to click on new registration. The applicant would be redirected to the portal, asking login information and details.
In the next step, the applicant has to fill in the information as requested. The following information will be asked-
Select the respective state and district;
Name of the business;
PAN of the business;
Email-ID and mobile number (All future communications would be received through the email id and the mobile number).
On the next page you will be asked for the OTP sent on the email ID and mobile number. Once the OTP is provided, click on proceed. A Temporary Reference Number (TRN) will be displayed on the screen.
Input Details of Captcha-
In the next step, the applicant would be required to input details of the TRN and the Captcha image, which is displayed. After this the applicant has to click on proceed. You will get another OTP on your registered mail ID and phone number which should be entered and then click on proceed.
Submission of essential details-
The application status shall be available on the next page and on the right side, there is an edit icon which allows you to enter in all relevant details.
Submission of application-
Visit the verification page and tick the declaration. You can submit the application through any of the methods such as Electronic verification code, by e-sign method or in case of companies, the application should be submitted through DSC.
Application Reference Number-
Once submitted, a success message will be displayed on the screen. Further an application reference number shall be sent to the registered mobile number and email ID. You can check the ARN status on the GST portal itself.
How to check GST Registration status?
Now taxpayers can also check or track their application status. Follow the process below:
Visit the official GST website;
Click on Services tab and choose registration;
You shall find an option of track application status;
Provide the Application Reference Number and enter the Captcha code;
Then you will be able to see any of the following status on your screen:
Provisional status;
Pending for verification;
Validation against error;
Migrated;
Cancelled
Penalty for Non-Compliance with GST Registration
The CBIC has issued a notification that not filing GST return by an entity would lead to strict penalties on the defaulter. Attachment of bank accounts of the defaulter would be one of the penalties incurred. Hence the applicant must file online mode of GST in appropriate form.
As per the CGST and SGST the penalty for non-compliance is Rs. 100 per day and a delay in such payment would lead to Rs. 200. The maximum amount shall be 5000 rupees. There is no late fee on IGST, if there is a delayed filing. It may be noted that along with the late fee under GST, interest shall also be charged @18%. It must be calculated by the taxpayer on the tax to be paid. According to section 122 of the CGST act non-compliance with the rules related to GST registration can attract strict penalties.
Validity of GST Registration
A Normal GST registration certificate issued to a regular taxpayer does not have a validity period and does not expire unless it is cancelled. However, in case of GST registration for casual taxable persons and non-resident taxable persons, the GST certificate is issued temporarily with an expiry date.
Cancellation of GST Registration
A GST registration can be cancelled either by the registered person or by the GST officer, or by the legal heir of the registered person in case of death of the person under GST. GST registration cancellation implies that the person will no more be registered under GST, and he will not have to pay or collect GST.
A GST registration can be cancelled by an officer in case the registered taxpayer does not carry out business from the designated place of business or issues invoice or bill without supply of goods or services thereby violating the GST Laws or if the person has not filed GSTR since the last 6 months.
A GST registration can also be cancelled voluntarily if the person registered under GST discontinues or closes down his business, changes the constitution of the business, the turnover falls below the threshold limit, death of sole proprietor or any other reason.