Who is Merchant Banker?
In accordance to Securities and Exchange Board of India (Merchant Bankers) Regulations, 1992, a merchant banker is defined under section 2 clause (cb) as any person who is engaged in the business of issue management either by making arrangement regarding buying, selling or subscribing to securities or acting as consultant, manager or rendering corporate advisory services in relation to such issue management.
Merchant bankers advise entrepreneurs right from the stage of a conception of the project till the commencement of production and they are in charge of the issue process. Merchant Bankers act as intermediaries between the companies and the investors. They take responsibility for the preparation of the prospectus and marketing the issue.
Examples of Merchant Banking in India
In India, there are public sector, private sector, as well as foreign merchant bankers in the merchant banking industry. Some of them are listed below:
Public sector:

SBI Capital Markets, Punjab National bank, IFCI Financial Services, Bank of Maharashtra, Karur Vysya Bank Ltd, State Bank of Bikaner and Jaipur

Private sector:

ICICI Securities, Axis Bank, Bajaj Capital, Tata Capital Markets, Kotak Mahindra Capital Company, Reliance Securities, Yes Bank

Foreign merchant bankers:

Goldman Sachs (India) Securities, Morgan Stanley India, Barclays Securities (India), Bank of America, Citigroup Global Markets India, DSP Merrill Lynch Ltd, FEDEX Securities Ltd
Categories of Merchant Banker
| | | |
| --- | --- | --- |
| Category | Activities | Minimum Net Worth Requirement |
| Category I | Merchant bankers can act as an issue manager, advisor, consultant, underwriter and portfolio manager. They carry out the activity of the issue management, preparation of the prospectus, determining financial structure, a tie-up of financiers and final allotment. | Net worth capital of Rs. 5 Crores |
| Category II | Such merchant bankers can act as an advisor, consultant, underwriter, co-manager and portfolio manager | Net worth capital of Rs. 50 Lakhs |
| Category III | Such merchant bankers can act as an underwriter, advisor and consultant. They can neither undertake issue management of their own nor do they act as co-manager. They cannot undertake the activities of portfolio management. | Net worth capital of Rs. 20 Lakhs |
| Category IV | Merchant Bankers can merely act only as consultant or advisor to an issue. | Nil capital |
What is Merchant Banking License?
Merchant bankers are required for dealing in international markets for procuring financial help and incorporating business and trading in the international market. There are many merchant banks already established and have provided best financial services to the best of abilities; but there is a requirement and scope for many more merchant bankers, with the everyday increase of international interest in the Indian market. Therefore, many more people are taking an interest in offering merchant banking services. In order to establish merchant banks, a license from SEBI is required.
Concerned Authority/Regulatory Authority for Setting up Merchant Bank
The SEBI or Securities and Exchange Board of India is the regulatory authority for Merchant Banking in India. The law which regulates the activities of the Merchant Bank in India is the SEBI (Merchant Bankers) Regulations 1992. For setting up a Merchant Bank, the concerned individual has to approach the SEBI.
The other regulatory authority is the Reserve Bank of India. Also, the Foreign Exchange Management (International Financial Services Centre) Regulations, 2015 are applicable to financial institutions which cover merchant banks under Section 2 clause (b) explanation. Banking Institutions performing merchant banking activities are also required to follow the requirements laid down in the prudential exposure norms prescribed by RBI, as well as the statutory limits contained in Section 19(2) & (3) of the Banking Regulation Act, 1949.
Process for obtaining Merchant Bankers license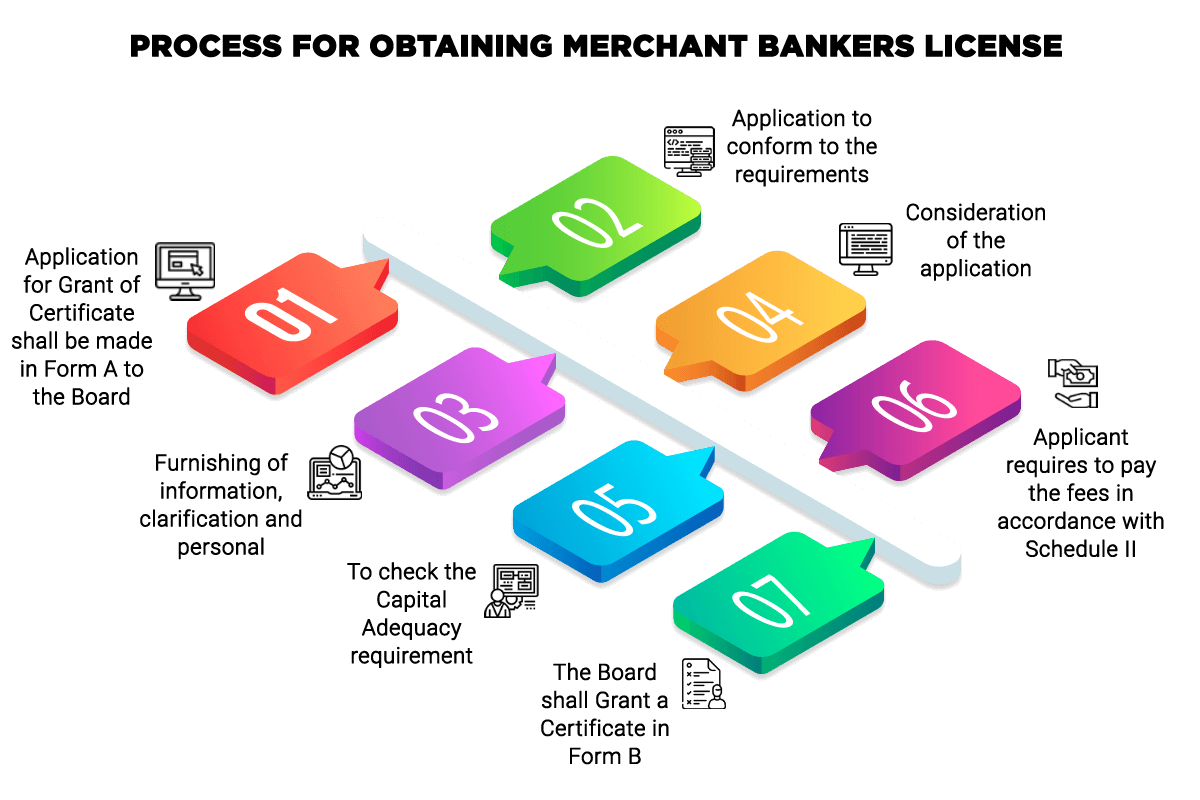 Documents required for Merchant Banker License
For registration, the Merchant Banker, applying as an applicant is required to pay a non-refundable application fee of Rs.50,000/- by way of demand draft drawn in favour of 'Securities and Exchange Board of India', payable at Mumbai.
Form A- Apart from the information that is provided in Form A additional information has to be published

• Memorandum of Application and Articles of Association

• Provide the UIN obtained under MAPIN for the applicant

• Details of Directors/ Promoters & shareholding pattern

• Details of Key personnel

• Details of infrastructure facilities

• Details regarding registration as NBFC

• Financial Accounts of the applicant

• Report from principal bankers

• Details of associated registered intermediaries

• Declaration by atleast two directors

The application can be made through an online process through the SEBI route.
Application for a merchant bank should confirm with the requirements.
The application, along with the requisite fees has to be submitted to the following address: Market Intermediaries Regulations and Supervision Department Division 5 Securities and Exchange Board of India, SEBI Bhavan, Plot No. C4-A, 'G' Block, Bandra-Kurla Complex, Bandra, Mumbai - 400051
Basic requirements of Merchant Banking Company
Merchant Banking Company shall comply with the provisions of the SEBI Act 1992.
Merchant Banking Company must not engage in any other financial activities as mentioned in section 45I(c) of the RBI Act 1934.
To open merchant banking company a minimum capital required is of 5 crore rupees for category 1, Rs 50 Lakhs for category 2, Rs 20 Lakhs for category 3.
Merchant Banking Company cannot accept or hold public deposits.
The Banking Company is a corporate body other than a Non-Banking Financial Company as mentioned under the RBI Act.
Merchant Banking must not engage in any activity other than those connected to securities market.
Merchant Banking Company must have a minimum of 2 employees holding a prior experience in merchant banking.
Merchant Banking Company must not be related to any other entity directly or indirectly registered as a merchant banker.
Merchant Banker must not have found guilty for any economic offence.
Services offered under Merchant Banking License
Project Counselling
Equity offerings and Management of Debt
Issue management
Underwriting of Public issue
Portfolio management
Restructuring Strategies
Offshore Finance
Non-resident Investment
Loan syndication
Corporate and advisory counselling services
Pre-investment studies
Venture Capital financing
Lease financing
Why Choose Enterslice
Enterslice helps in providing various services regarding the Merchant Banking registration process.
We help our clients with support to solve business problems and to ensure continuous networking of your business.
We provide instant response to requests in guaranteed time duration and help you maintain merchant banking license.
We at Enterslice also help our clients in post incorporation compliance services for merchant banking.
How Enterslice Helps you
Fill The Form
Get a Callback
Submit Document
Track Progress
Get Deliverables