Analysis of NBFC Annual Compliance
A Non-Banking Financial Company is an essential part of the financial system in India and is also one of the most popular financial institutions extending loans and other financial assistance to borrowers. Just like in case of banks, the RBI also has a specific set of regulations for NBFCs. However, these regulations keep on changing as per circumstances and situations.
In recent times, RBI compliances are getting tougher for NBFCs as compared to before. There were times when Non-Banking Financial Companies had privileges over banks. In comparison to banks, compliance laid down by RBI for NBFCs were far more lenient but after the Sahara case, RBI has made new compliances for NBFCs and now it is under RBI's continuous screening. Some of the important guidelines are Securitization of Standard Assets and Guidelines for Private Placement of NBFCs. RBI is making efforts for preventing speculation in NBFCs. RBI releases notifications for the additional compliance requirement for NBFCs.
The NBFC Annual Compliance means the NBFC compliance due dates and returns that is required to be filed by the NBFCs. The list is provided as per the RBI guidelines and master directions.
Non-banking financial companies are required to comply with the compliance, as provided under the Non-Banking Financial Company Returns (Reserve Bank) Instructions of 2016.
Different Types of NBFCs (based on activities and liabilities)
Based on Liabilities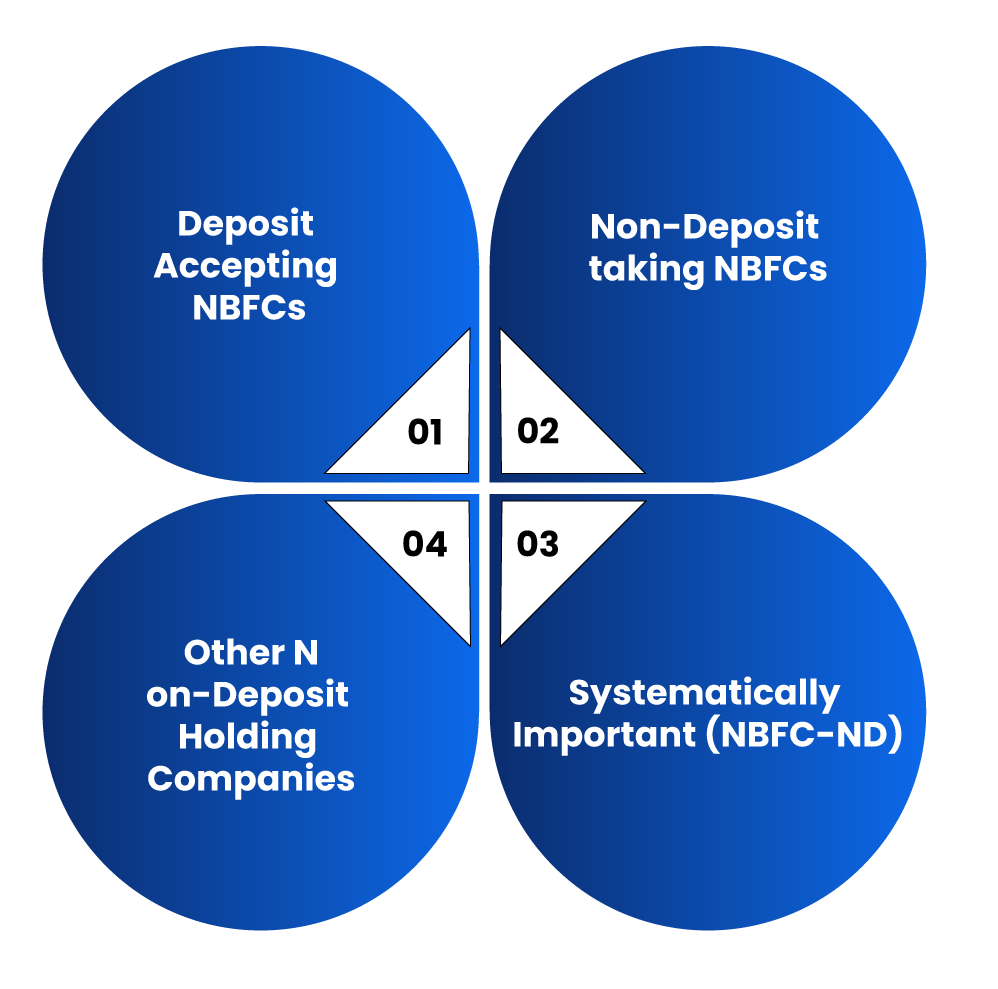 Deposit Accepting NBFCs;
Non-Deposit taking NBFCs;
Systematically Important (NBFC-ND);
Other Non-Deposit Holding Companies.
Based on Activities
Infrastructure Finance Company (IFC)
Investment and Credit Company (ICC)
Systemically Important Core Investment Company (CIC)
NBFC- Non-Operative Financial Holding Company (NOFHC)
Mortgage Guarantee Companies
NBFC-Factors
NBFC- Microfinance Companies (MFIs)
Infrastructure Debt Fund Non-Banking Financial Company (IDF-NBFC)
NBFC Annual Compliance: Submission of Annual Statements and Returns
NBFC-ND-SI (Non-Deposit category) are required to submit an annual statement of capital funds, risk assets ratio etc. It can be submitted electronically as well as physically.
Further Capital Adequacy, Liquidity, and other disclosure norms have been incorporated in Non-Banking Financial (Non-Deposit Accepting or Holding) Companies Prudential Norms (Reserve Bank) Directions, 2007.
Capital Adequacy of 15% to be maintained.
Disclosures in the Balances Sheet
CRAR
Exposure to Realty Sector both direct and indirect
Maturity Patterns for assets and liabilities
ALM Returns are required to be submitted by NBFC- ND-SI
ALM1- Statement of short-term dynamic liquidity- Monthly
ALM2- Statement of short-term structural liquidity- Half Yearly
ALM3- Statement of Interest Rate Sensitivity – Half Yearly
Essential NBFC Compliance Checklist for Non-Deposit & Deposit Company
We have compiled the NBFC Annual Compliance for Non-Deposit and Deposit Company.
S. NO

PARTICULARS

TIME LIMIT

Annual Compliances

1.

Undiscovered March Return / NBS-7 Return

On or before June 30

2.

Statutory Auditors Certificate of Income and Assets

On or before June 30

3.

Company details with FDI or Foreign Funds

On or before June 30

4.

Inspected return for March / NBS-7

Upon completion

5.

Audited file of annual balance and P&L Account

One month from date of signoff

6.

Reconciliation of a Public Deposit Rejection

Before commencement of new Financial year

7.

Announcement of Auditors to Annual Audit Company

Annually

Monthly Compliances

1.

Monthly Return

By 7th of the month

2.

Upload Monthly Return

By 7th of the month

Periodical Compliances

1.

Appointment of Director (Appendix-III)

Within 30 days of appointment

2.

Resignation of Director that is DIR-12 and Challan receipt

Within 30 days of appointment
Return and compliances for NBFC registered with the RBI
As per Master Direction [1] – The NBFC-NDs-SI and NBFC-SI deposit company is required to file the following refunds as provided below:
Deposit NBFCs should submit return as provided below:
NBS-1 Return: NBFC that receive or manage public funds is required to file NBS-1 return quarterly. The objective behind filing this return is to take financial information like Profit and Loss Account, Assets and Liabilities, Disclosures in sensitive areas, etc.
NBS-2 Return: NBFC that receives Public Funds file a quarterly refund to Prudential Norms. The purpose of submitting this refund is to take into account compliance with different strategic principles such as the division of assets, Financial Sufficiency, NOF, Provision, etc.
NBS-3 Return: In this, every NBFC who takes a deposit should apply every quarter. In addition, the purpose of introducing this return is to get the information about official investments in Liquid assets.
NBS-4: Reimbursement should be lodged by rejected company holding public funds. Earlier it was done on NBS-5 but, now NBS-5 is suspended.
NBS-6 return: It is a monthly return wherein the details of the capital market exposure is provided.
Half-Yearly ALM Returns by the NBFC should be filed by NBFCs having public deposit more than Rs. 20 crore or asset size in excess of Rs. 100 crores.
Branch info return is a return to be filed quarterly which contain the details of the branch.
Non-Deposit NBFCs should submit return as provided below:
NBS-7- It is a quarterly statement that lays down information related to the risk assets ratio, capital funds, risk-weighted asset.
ALM Returns- Monthly- statement of short-term dynamic liquidity in format NBS-ALM-1. Half Yearly- Statement of structural liquidity in the format NBS-ALM2. Half Yearly- Statement of interest rate sensitivity in the format NBS-ALM-3
Branch info return- Quarterly return on the important financial parameters of non-deposit taking NBFC with assets of more than 50 crores rupees and above but less than 100 crores rupees. The requirement such as the name of the company, address, Net Owned Fund, profit/loss during last three years should be furnished quarterly by the non-deposit taking NBFCs with an asset size between 50 crore rupees and 100 crores rupees.
NBFC Return for NBFCs with an asset Size below 500 crore rupees
RBI regulations have changed and all non-deposit taking NBFCs, with assets size less than 500 Crore rupees must submit an Annual Return. Two fresh Return Formats have been included to capture substantial financial parameters of NBFCs-ND, which include:
NBS-8 Return- For every NBFC (non-deposit taking) with assets size between 100 Crore rupees to 500 Crore rupees are required to file return in this format.
NBS-9 Return–NBFCs (non-deposit taking), with assets size below 100 Crore must file this return.
The deadline to file both these returns is May 30th, within 60 days from the end of the year. Moreover, the aim of filing NBS-8 & NBS-9 is to get financial details and profile information like Profit & Loss account, Components of Assets and Liabilities, Exposure to sensitive sectors, Branch Information.
RBI returns for NBFC-ARC and RNBCs
ARC Return- NBFC-ARC should file ARC return to get various operational details, as well as financial parameters like the acquisition cost, recovery status, assets (NPA) acquired, etc.
NBS-1A and NBS-3A- All Residuary Non-Banking Companies or RNBCs must submit these returns (NBS-1A and NBS-3A). These refer to return on Financial Indicators by the RNBCs to capture financial details, such as Statutory Investments in Liquid Assets, Profit & Loss account, Exposure to sensitive sectors, Components of the Assets & Liabilities, etc.
RBI intimations applicable for all NBFCs
The RBI compliances that apply to every NBFCs irrespective of the activities performed by it:
Filing Annual Report to the RBI

Every Non-Banking Financial Company is required to provide the Annual Report within 15 days of holding the (AGM) Annual General Meeting. The company should provide the Audited Balance Sheet along with the Audited Profit & Loss Account passed by the company in the meeting and also affix the copy of Board of Director's report to Reserve Bank of India (RBI).

Statutory Auditors Certificate

All NBFCs should provide an Annual Certificate from the Statutory Auditors to the effect that such NBFC was engaged in the non-banking financial business so it must hold a Certificate of Registration (CoR) issued under Section 45-IA of RBI Act. The due date is 1 month from the date of finalization of Balance Sheet not exceeding December 31st.

Annual Returns

Every miscellaneous NBFC holding or accepting deposits should submit the annual return providing the information provided in the prescribed format to Reserve Bank of India.

Changes in Directors or Principal Officers

If, an NBFC changes any Director or a Principal Officer, then it must intimate RBI within a month from the date of such development. Each NBFC within one month from the beginning of its business delivers a written statement comprising of the following information:
Names as well as the official designations of its principal officers;
Name and residential address of the directors of the company; and
Specimen signature of Principal Officers authorized to sign on behalf of the company.
Any changes or amendments in the information provided above has to be intimated to the RBI within a month from the occurrence of such change.
Prudential Regulation under (Chapter IV) of RBI Master Direction
Apart from the RBI compliances for NBFCs provided above, there are other regulations that non-banking institutes must comply with:
Leverage Ratio: NBFCs (except NBFC-IFCs and NBFC-MFIs) are required to maintain leverage ratio of not exceeding 7 at any course of action.
Accounting of investments: The Board of Directors of NBFC are required to frame investment policy for the company and implement it also. For instance, the criteria of categorizing investments to current and long term investments.
Policy for demand/call loans: The Board of Directors of an applicable NBFC that wishes to demand/call loans should frame a policy that would be implemented by the company.
Classification of Assets: Applicable NBFCs should classify their assets in the following classes of:
Standard Assets;
Sub-standard Assets;
Doubtful Assets; and
Loss Assets.
Provisioning of Standard asset: Each applicable NBFC should make provision for the standard assets at 0.25% of the outstanding.
Multiple NBFCs: All applicable NBFCs would be aggregated jointly for the objective of checking the limit of 500 Crore rupees of asset size.
Disclosure in the Balance Sheet: Every NBFC will have a separate disclosure provisions for doubtful/bad debts & depreciation in investments.
Loans against the shares of company is prohibited: No applicable NBFC can lend or take credit against its own shares.
It is critical for a management running an NBFC to be well aware of these regulations and stay updated about them. At the same time, NBFCs should adhere to the compliance checklist. In case an NBFC fails to comply with the RBI checklist, they will be subjected to heavy fines and penalties.
How Enterslice will help you
Fill The Form
Get a Callback
Submit Document
Track Progress
Get Deliverables