Legal Process Outsourcing – An Overview
Legal Process Outsourcing became prominent in India in the early 2000, with more amounts of third party vendors taking contracts with foreign companies and international law firms. Most of the work carried out in India related to LPO is unregulated. Evolution of this type of work was more dependent on the increasing costs of carrying out work
Legal Process Outsourcing (popularly known as LPO) is a practice in which a law firm or corporation obtains legal services from an external law firm or a legal process outsourcing provider. Other than this legal process outsourcing is carried out by an offshore unit which carries out all the work at a relatively low cost and less time. Through such mode of delivery of legal services, there has been massive development. With more delivery services, the challenges have also improved.
Usually, corporate houses situated in the USA, the UK and Europe outsource their legal work to countries that are less expensive since the lawyers in these countries are quite expensive. By outsourcing the legal work, these companies save huge costs that could have been spent on legal work.
India is one of the most sought-after destinations for outsourcing legal work. The LPO sector is growing enormously in India, and many investors desire for entering into this sector. The main work carried out in legal process outsourcing would be contract drafting services, legal research based services, document review services and property conveyancing checks which are carried out by offshore organisations.
Is Legal Process Outsourcing Regulated in India?
As per the current rules under the Advocates Act, 1961 law firms and in-house firms are not allowed to carry out any process that deals with outsourcing of legal activities. Indian law firms are allowed to practice and carry out the requirements which comply with relevant Indian law.
Moreover, foreign law firms are not allowed to practice in India. Hence major legal processing work would only comprise of foreign law which is minimal in nature. Usually high end software is utilised when carrying out legal process outsourcing.
What are the advantages of Legal Process Outsourcing?
There are many advantages of legal process outsourcing: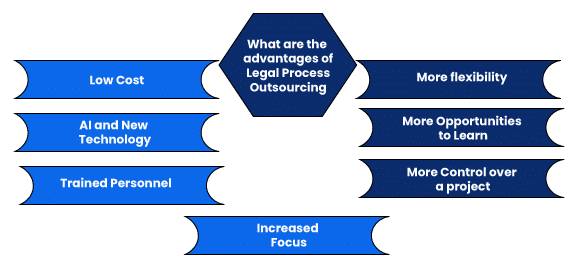 Low Cost

One of the main attributes to utilising legal process outsourcing is low costs of the company. When it comes to labour cost between a developed and developing country, then firms prefer utilising resources from a developing country as twice the amount of work can be achieved with less cost.

AI and New Technology

LPOs utilise advanced technology which helps them improve capabilities. Artificial intelligence is used by some LPOs to vet contracts. This can be carried out rapidly by the AI. Hence utilising services through a LPO would be cost effective.

Trained Personnel

When it comes to outsourcing of legal work there is support of trained professionals. Hence this process would ensure that the work is carried out systematically.

More Flexibility

As it is outsourced work; there is more flexibility when it comes to carrying out processes. Usually most LPOs have their centres open 24*7. Hence as they are available it is easy to carry out work and processes. Many of these centres run during night shift.

More opportunities to Learn

There are more opportunities to get work carried out by outsourcing to an LPO. Legal work gets completed earlier when provided to an LPO. For example, take a conveyance LPO- all the scanning and work related to title deed would be completed by the offshore entity. Through this associates who are working onshore would get more time to prioritise their work.

More Control Over the Project

By using outsourcing, the main priorities can be accomplished by the firm. As the legal process work is carried out by the main entity, only the outsourcing work is carried out by the LPO. Through this, the outsourcing entity can concentrate more and prioritise projects on a particular basis.

Increased Focus

As outsourcing firms only work on a project by project basis; there can be more focus on one project when compared to other projects. This would be impossible to achieve when most of the work is carried out in-house. Even if it is possible to carry out the work, lot of time would be wasted unnecessary.
Pricing Models used by LPOs
Fixed rate:

In this model, a fixed price is charged for the entire duration of a project. However, a little flexibility in prices as per market conditions may be allowed.

Variable Pricing:

The cost of the project is dependent on the contemporary market conditions in this kind of pricing model.

Pay per Unit:

In this unit, price is charged at a pre-decided amount for each part of the project. The different parts of the project may be priced differently, as per the amount of work and complications involved.

Cost plus Profit:

The entity outsourcing work has to pay additional charges in the form of a fixed percentage of the project. This model is not very flexible in terms of changing business technologies/objectives.

Profit and Risk Sharing:

In this model, the organization and the firm work like a partnership, and share the profit and loss equally.
Measuring Outsourcing cost
It is vital for the company to see as to whether the outsourcing of legal work will be profitable for it or not. It can check the same via following steps:
Analysis of outsourcing costs:

The total cost of outsourcing can be checked as a total percentage of operations costs of a business. The analysis of cost can be done in the form of pie charts or other analytical tools for making a comparison of the outsourcing cost with all the other business costs.

Return on Investment:

It is vital that the organization outsourcing work keeps checking the market conditions and other firms to ensure that it is getting value for money. The business models and pricing keep changing from time to time and it is necessary that the latest developments be taken care of.

Evaluation of savings:

The Company can check how much money it is saving by outsourcing the legal work. The comparison can be made by evaluating the cost of getting the legal work in the home country with the amount being spent by outsourcing work.

The organization can also decide on outsourcing the legal work in parts rather than the entire assignment. This decision can be taken by making an evaluation on maximum cost savings associated with a project.

Therefore, an organization can outsource that part in which it is going to make maximum cost savings. Later, if it is satisfied with the work of the firm to which the work has been outsourced, bigger projects can be outsourced for making bigger cost savings.
What comes under the process of Legal Process Outsourcing (LPO)
The following is included in Legal Process Outsourcing: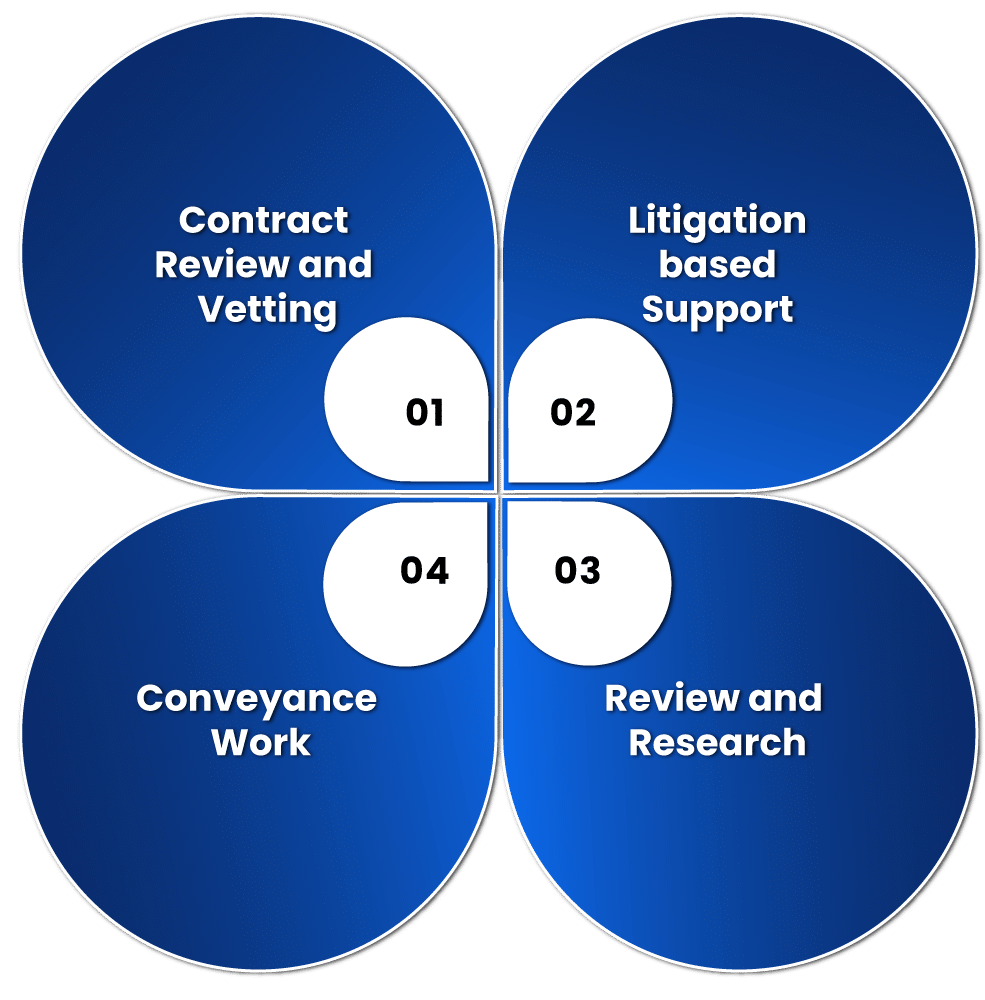 Contract Review and Vetting
Litigation based Support
Conveyance Work
Review and Research
Contract Review and Vetting

This would include where the contract work is outsourced to a legal services or LPO in the country. The work carried out by lawyers of the legal process outsourcing entity would only include vetting the contract and finding out if there are any inconsistencies or errors which lead to issues. For this the use of advanced technology and artificial intelligence is utilised.

Litigation based Support

Though foreign law firms cannot practice in India, litigation based support would be when the foreign law firm sends over particular documents for conducting a review of the docket or checking if the papers are in order.

Conveyance Work

There are property based law firms in the UK that carrying out conveyance outsourcing work from India. The law firm would get in touch with the offshore LPO to carry out basic work such as title search, document review and scanning. Due to this, conveyance firms in the UK can concentrate on more important work for the firm.

Review and Research

Offshore firms would also carry out services such as review and research. Legal research can be carried out by the offshore firm and provided to the onshore based law firm. There are legal data basis such as Westlaw and Lexis Library to assist with legal research. All that is required for this process is a subscription and the payment of a monthly subscription cost.

Legal Process Outsourcing to India has become a sought-after option for many organizations in developed nations. This is more for the reason that quality legal work is assured at lower prices in India and the organizations save on the exorbitant fee of the attorneys and law firms in their home country.
Enterslice Advantage- Legal Process Outsourcing
Enterslice main aim is to add value to your business.
Our team of professionals comprising of Lawyers, Conveyancers and Paralegals.
Constant monitoring and 24*7 customer service.
How to reach Enterslice for Legal Process Outsourcing
Fill The Form
Get a Callback
Submit Document
Track Progress
Get Deliverables