NBFC Registration - An Introduction
In a video given below, we have explained what NBFC is in a layman term? A complete process of registering a new NBFC, takeover of existing NBFC and how NBFC license can be obtained from RBI.
NBFC (Non-Banking Financial Company) is a widely engaged in financial activities like secured and unsecured loans, investments, Marketplace lending or financial Information service provider or any other business objectives as defined under section 45-IA of the RBI Act. 1934 and Companies Act 2013. NBFC does all types of financing business but does not possess a full fledge banking license. An entity who is willing to start loan or investment business is required to obtain Certificate of Registration (COR) from RBI. The RBI has simplified the NBFC Regulation and now licensing process is much easier than it was before.
NBFC specializes in offering both secured and unsecured loans likewise but not limited to Personal Loan, Business Loan,Auto Loans, gold loan, Assets Financing, Acquisition of Shares, Stock, Bonds, Hire-Purchase, Insurance, Currency Exchange, Peer to Peer lending, hedge funds etc.
RBI has established two separate departments for efficient administration and smooth operation of NBFC. Department of Non-banking Regulation and Department of Non-Banking Supervision. Both these department administered by CGM (Chief General Manager level Executive of the RBI).
Growth and Market of NBFC's In India
The NBFC has been highly innovative in the lending space since the beginning and has played a vital role in the growth of the financial ecosystem, and it has proved more innovative as compared to the bank. The key factor of NBFC success is customized and personalized loan product, quick processing and customer friendly credit policy. During the year 2019, the NBFC Market share was 18.6%. NBFC will continue to maintain its growth if the following factors widely executed in the business.
Customized Loan Product
Personalized Customer service
Leveraging technology
Use of Digital channel of increasing reach
Improved and high-level Risk management tools
NBFC Market share is quite low as compared to banks, but still Private lending business has been one of the emerging and profitable business in India.
| | |
| --- | --- |
| Financial Year | Growth |
| 2016 | 13% |
| 2017 | 16% |
| 2018 | 20% |
NBFC help to meet the demand that remains unfulfilled by the traditional banking system in shorter processing time. Despite the slowdown in every industry, we expect that NBFC will continue to maintain its growth rate. The growth factor NBFC will continue, and Profitability will improve because digital lending/ Fintech as the new industry entered in the lending space of the India Market.
Role and Function of NBFC in India
As recognized by the RBI, the specific roles of the NBFC are as below:
Development of sectors like infrastructure
Help and increase wealth creation
Substantial employment generation
To provide finance economically weaker section
Helps in economic development
A huge contribution to the state exchequer
NBFC provide long term audit and specialized credit
Helps in the development of financial markets
How is NBFC different from Bank?
NBFC and Banks both are involved in financial activities, but some differences between the two are as follows:
Act of Regulation- NBFCs are regulated by the Indian Companies Act, 2013, whereas Banks are governed by the Banking Regulation Act, 1949.
Demand Deposits- NBFCs can not accept the deposits, whereas Banks accept the deposits from their customers.
Drawing a Cheque- NBFCs cannot issue or draw cheques on its own whereas Banks can issue cheques freely
Deposit Insurance Facility- The deposit insurance facility is not available for NBFC depositors whereas it is available for bankers
Classification of NBFC by Activity
Investment Credit Company (ICC)- It is formally known as Loan company (LC), Investment company and Assets Finance Company. With ICC License- you can do lending and Investment.
NBFC-P2P (Peer to Peer Lending)- Online Platform to collaborate lenders and Borrowers and Manage funds.
NBFC-AA (Account aggregator)- Financial Information service provider (Bigger Version of Existing CIC companies)
NBFC-MFI- Credit and Loans to the Weaker Section of the Society
NBFC-ND and CIC- Investment in shares -Debt in the same group of companies
NBFC-IFC- Long term debt to Infrastructure companies
NBFC-Factor- Receivable Financing or Bill Discounting
Mortgage Guarantee Company- Providing Mortgage guarantee services
NBFC-Financial Holding- Created for Banking License
Housing Finance Company- Loan for Affordable Housing
Types of NBFCs on the Basis of Liabilities
NBFC Registration Process
Register a Company as per Companies Act 2013
Arrange Capital of Rs. 2 Crore /20 million INR (Minimum capital requirement for an NBFC License)
Creation of a Fixed Deposit of Rs 2 CR with any Nationalize Bank
FDI Compliance as per the Foreign Exchange Management Act (FEMA) - in case of foreign investment
Complete documentation for an NBFC license
Submission of the necessary documents with FD receipt before RBI
Visit the site https://cosmos.rbi.org.in for the Online NBFC Registration application
Download NBFC eform from the Website and Submit Online
To keep a check on the status of your form or for tracking purpose, you must take note of the SRN.
Keep a hardcopy of the NBFC Registration form (indicating the online Company Application Reference Number)
Submit all the necessary documents to the RBI Central office
Eligibility criteria for the NBFC license
According to Section 45(1A) of the Reserve Bank of India for any individuals or company willing to start loan or investment business in India, he/she will require a register a company, hire skilled team and also meet the below pre-conditions prescribed for NBFCs. If an Applicant company qualifies, the legibility criteria can apply for NBFC registration with RBI.
Directors Profile

The Directors must have experience in Finance, Credit or Banking.

NBFC Business Plan

The Applicant company must have a detailed business plan for the next five years

Owned Fund

Shareholders in total must have minimum Rs. 2 Cr as a net owned fund; Invested Capital must not be the borrowed fund.

Clean Credit History

All the directors and shareholders must have no write-offs or have not willfully defaulted the repayment of loans or credit fac to NBFC/Bank.

Quality of Capital

The Net owned fund of the promotor must be tax paid, and all statutory compliance of the management of the applicant company must be clean and legally acceptable
Strategic Factors for NBFC License Success
It takes industry-expert professional acumen to obtain an NBFC license as well as to operate the same. The RBI ensures that the NBFC is operated by best in industry profession possessing necessary expertise and ethical work record. Therefore, it is essential to cover every aspect of the regulatory requirements.
11 Pointer checklist for NBFC Registration
1. MOA of the NBFC Company

The object clause in the MOA must be inlined with the Business Plan

2. Certified Copy of Registration Certificate

The Founders are required to obtain a certified copy of MOA and AOA

3. Income and Identity test

The Promotors and Shareholders require to qualify the quality of Capital test and also prove that general conduct of Promotors is always good.

4. Net worth Certificate

Get a net worth certificate of Directors, Shareholders, and Company

5. Clean Banker Report

Banker report about the initial fixed deposit of Rs 2 Cr with the no Lien remark.

6. Highest Education Proof

Certification of educational/professional qualification of the directors of the Applicant Company

7. Credit report of Directors and shareholders

Latest credit reports of Shareholders as well as of directors are required.

8. Experience in the Financial sector

Make sure to appoint at least one director with experience of 10+ years in the sector of financial services.

9. Underwriting model

Submission of a detail action plan about the loan products, fair practice code, Technology, credit and risk assessment policy.

10. Organization Matrix

Need to provide organizational structure and decision-making process for approval/rejection of loan application

11. System and IT Policy

a. IT and Data Security Policy
NBFC Registration with RBI
The founders are required to follow both offline as well as online NBFC application process to obtain the NBFC license. The Reserve bank of India is an autonomous body, and it has two separate departments to regulate and supervise the function of the NBFC.
DNBR (Department of Non-banking Regulation)
The DNBR is responsible for conducting the Fresh NBFC Registration process as well as is responsible for preparing the regulation and Polices for the NBFC. The DNBR has transparent and innovative assessment process of NBFC Application.
The DNBR will send you an email and a formal notice if they need any additional documents during the NBFC registration process. The RBI expects your submission/response to the given notice within 7/15/30 days as per the NBFC regulations.
Assessment of Application Submitted for NBFC License (All Category of NBFC)
Investigation of Directors / Shareholders Profile
Communication with Applicant Company in Pre-Registration Process
Communicates Final Decision to the applicant company with the Approval of Executive Director office (RBI)
Regulates & Administer NBFC Business in India
Publish Notifications, Circular & Order for NBFC
DNBS (Department of Non-Banking Supervision)
DNBS is responsible for post-registration compliance of the NBFC's and other administrative issues.
After Approval from DNBR (Department of Non-banking Regulation) collects net owned certificate & bankers report – before they issue you the NBFC License (CoR) in Original
Responsible for complying the NBFC Rules and Regulations issued by the RBI
Conduct Audit / On-site inspection from time to time
Suspend / Cancel NBFC License in case of Non-Compliance with the Laws
Educate and conduct a seminar for the general awareness about the NBFC Regulations, Compliance and Business.
NBFC Registration Timeline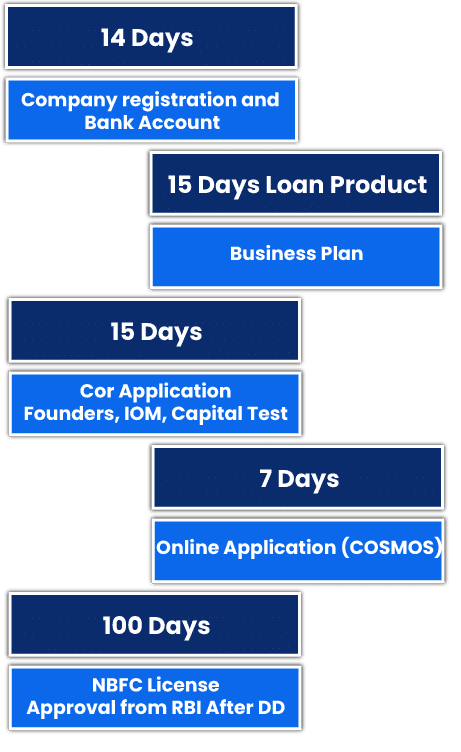 What are the Steps in the NBFC Registration Process?
Before filing the application for COR (Certificate of Registration), one should read the following checklist of NBFC registration Process.
Step 1 – Hire NBFC Registration Consultants
Experience Matters

Select an experienced consultant experience in NBFC & Banking laws with Minimum 10+ years.

Credibility

An NBFC Consultant firm should have a good team size of 100 to 150 with a combination of professionals like CA, CS, Senior Bankers and Lawyers.

Verify Reference

The reference check is important in case you engage a consultant who does not have expert knowledge of NBFC regulation. It may lead to rejection of the application by the regulator.
Step 2 – Business Plan
Founders and Executive Summary
Loan Product Plan for 5 Years
Credit and Underwriting process map
SWOT Analysis
Credit & Risk Model
Competitors Analysis
Lending model – Digital / Branch Model
Financial forecast
Step 3 – Application for CoR (Certificate of Registration)
The middle name of the company must have Finance, Finserv, Final, Investment, Capital, Fintech, and Leasing etc. For Example, Enterslice Capital Private Limited
Create a Fixed Deposit of Rs. 2 Cr with a scheduled commercial bank
Verify the backgrounds of promoters
Necessary documentation for obtaining an NBFC license
Submit an online COR application on the Website of RBI (COSMOS); thereafter a CARN will be generated
Physical submission of application with the regional department of RBI
RBI will scrutinize the submitted application and COR will be issued.
Benefits and Business Opportunities after NBFC registration
The business environment in India is favourable for NBFC for their exponential growth. Financing business in India is highly regulated by the Reserve bank of India. Hence NBFC registration offers many benefits. A Registered NBFC helps to gain the confidence of borrowers, offers you the security of capital invested in the business.
Lowest Legal and Business risk
Higher confidence of customer after Grant of NBFC license
Easy to Raise Investments in NBFC
Access of CIBIL/Other Credit Bureaus data
Open Interest Rate without any Cap
Free to charge Processing Fees–No Cap
Protection by law for recovery of loan
Easy Bank Finance
Up to 100%, FDI Allowed
Leverage of technology and Low Operation Cost
A decline in NPA/ Bad Loans due to credit reporting to Bureaus
Factors of Success for NBFC
1

Highest Fintech Adoption Rate

India has the highest Fintech Adoption Rate
in the world at 87%

2

Second Highest Internet Penetration Rate

India has the 2nd Largest Internet User-base and 1.2 Billion Smartphone Users

3

Regulatory Support

Introduction of "Unified Payment Interface" or UPI with routine policy support

4

Infrastructural Advantage

India is the world's 3rd Largest and fastest-growing startup hub, with over 26000+ startups projected by 2025

5

Largest Unbanked Population

India has the largest population of unbanked people and banking dormancy rate of 43%

6

Best in Industry Talent

India had tailor made and best in industry finance and IT professionals to suit the needs of Fintech NBFC's

7

Smart Country Initiative

Smart infrastructure for the country. development of Smart Cities and the launch of the Digital India movement

8

Smart Consumers

The number of smartphone users in India stands at 1.2 billion. This set of class represents around 93 % of the country's population
RBI Regulations for Non-Banking Financial Companies
The certain compliances are followed after the NBFC License process is completed. There are various guidelines, circulars, and notifications, from the RBI, published in the public domain from time to time, which required to be complied with mandatorily, such as:
Statutory Audit
Income Tax Returns Filing
Tax Audit
GST Returns Filing
ROC Returns
NBFC Multi Regulator Model
Unlike UK,India works on a multi-regulator model. There are certain class of NBFCs regulated by other regulators than RBI.
All other Compliances/Returns required by a competent authority.
RBI compliance for NBFC
Adoption of Fair Practice Code
Secretarial compliances
CIC Registration
C-KYC Registration
COSMOS Registration
CERSAI Registration
FIU-IND Registration
File NBS-9 on COSMOS, the online platform of RBI
Compliance of KYC Anti-money Launderings.
Fresh NBFC Registration vs. Takeover of NBFC
Applying for new NBFC Registration online with is always a better option than a takeover of NBFC. The registration of NBFC is simpler than before. This is especially for Foreign Companies, who intends to enter into the Indian Financial service market.
We always advise them to apply for the new NBFC registration application instead of buying existing NBFC.
Advantages of Fresh NBFC Registration above NBFC Takeover
Low Legal Risk

In case of NBFC takeover, past Non-compliance of the target entity with the RBI Act may lead to cancellation of the NBFC License.

Timeline

Fresh NBFC Registration can be executed in a period of 90 to 120 days, whereas an NBFC Takeover usually takes 150 to 300 days.

Title Risk

There is no risk of ownership after the new registration of NBFC. You are the first shareholder of the company while in case of existing NBFCs, you will be unable to establish the precise title of shares.

Tax Liability

Entities are responsible for a tax liability of existing NBFC they are willing to take over.

Capital

In case of new NBFC License application, you may need to block your Rs. 2 Cr / Rs. 20 Million FD in Bank Account. However, the proposed shareholders are required to submit the bankers report in a case of NBFC takeover. The report should state that the bank balance is equivalent to the book value of the shares.
Risk Management Process
What are the Benefits of Fintech Based NBFC Business Model?
The integration of new age technological advancements with financial business operations is reaping numerous benefits to the economy. There are many advantages to doing so, such as:
Addressing customer problems using technological advancements
Online loan facility
Working on financial inclusion app
Creating space for the alternative digital banking system, disrupting conventional business models facing significant legacy issues
Use of Big data, AI & Machine learning tools to minimize the fraud
Benefits of Fintech Based NBFC as an Alternative Lending Model
Reduction in Operation Cost

Fintech based NBFC make extensive use of the technology and IT infrastructure. Hence, the operating cost reduces significantly.

Broad Reach

Fintech NBFC can target a diverse pool of customers beyond geographical limitations. This advantage is outside the scope of the conventional banking system.

Higher ROI

Fintech based NBFC has a higher fund cost in comparison to a bank. However, it enjoys a lower customer acquisition cost and lower servicing cost than banks.

Lower NPA than Bank

As per the prominent market experts NPA of NBFC's is lower as compared to bank.
Penalty for Non-compliance as per RBI regulation
The Reserve Bank has the authority to impose a penalty on NBFCs for violation of the provisions under the RBI Act. Such penalty is as follows:
The business when carried without a certificate of registration, the Reserve Bank can impose a fine of not less than one lakh rupees which can extend up to Rs. 5 lakh or twice the amount involved in such contravention, whichever is more.
The business carried without a certificate of registration is an offence which is punishable with imprisonment of not less than one year.
If the default is continued by the company, then penalty imposed up to Rs.25,000 per day after the first day of such default.
In case of any other contravention, a fine imposed of a maximum of Rs. 5,000 by the Reserve Bank.
If there is non-compliance with the orders of the Company Law Board is punishable with imprisonment up to three years and a fine of not less than Rs. 50 every day during which such non-compliance continues.
If any auditor fails to comply with any direction given by the Reserve Bank, he will be punishable with a fine up to Rs. 5,000.
Why Enterslice?
400 + NBFC Clients
100+ Fresh NBFC Registration
300+ Team of CA/CS/Ex-Banker
500+ Cities Served
24X7 Customer Service
9 Customer Score
98% SLA Delivery
Our Timeline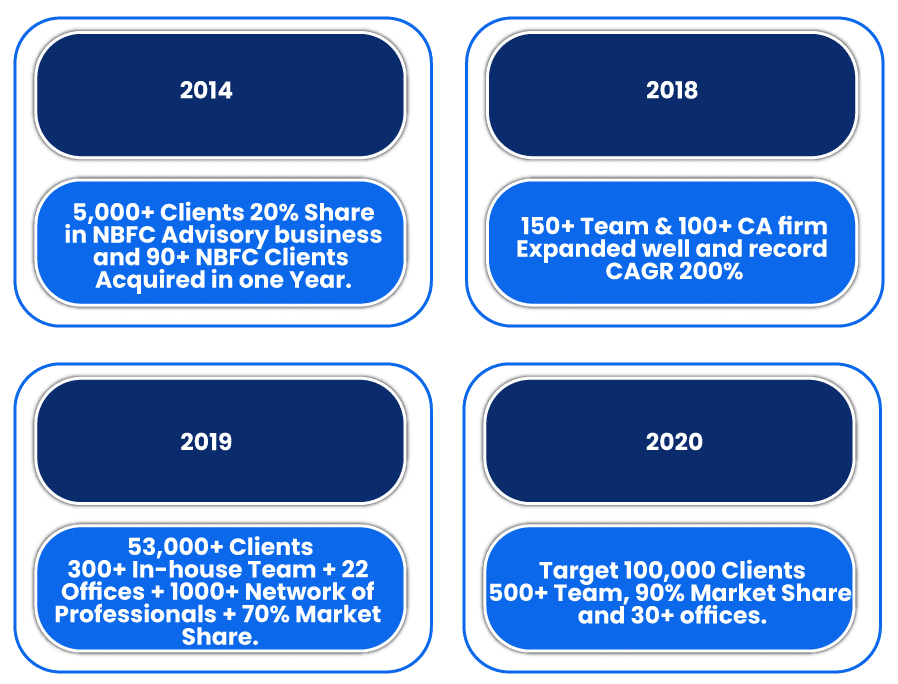 If you have any additional questions, please feel free to write at info@enterslice.com or fill the enquiry form as mentioned above, we shall get back to you.
Enterslice Advisory Services for NBFC?
Advisory for Fintech Based Digital Lending businesses
Assistance in the SOP of the Organization
Assistance in designing loan product
Finalizing reporting formats from various verticals of the organization
Assistance in developing Company Policies
Virtual CFO Services for the NBFC
Providing Assistance to the founders in the preparation of the market strategy
Assistance in the fundraising process
Assistance in meeting secretarial compliances
Assistance in meeting RBI Compliance
Advisory on Adoption of Ind-AS and IFRS
Internal Audit Services
How Enterslice will help you to get NBFC Registration?
Fill The Form
Get a Callback
Submit Document
Track Progress
Get Deliverables