NBFC Registration- An Overview
NBFC stands for Non-Banking Financial Company. It is a company registered under Companies Act, 2013, which is engaged in the business of providing loans & advances, acquisition of shares/stocks/bonds/debentures/securities issued from the government or the local authority or other marketable securities of alike nature, leasing, hire-purchase, insurance business, chit business. However, those institutions whose principal business is that of agriculture activity, industrial activity, purchase or sale of goods (other than securities) or providing any services and sale/purchase/construction of the immovable property are excluded from the definition of NBFCs.
Moreover, Non-Banking Financial Company also refers to a company having principal business of obtaining deposits under any scheme or arrangement in lump sum or in installments through contributions or in any other manner, is also a non-banking financial company (like Residuary Non-Banking Company). Hence any non-banking institution desirous of engaging in such activities should apply for NBFC Registration.
Growth of NBFCs in India
NBFCs have made significant advancements in their scale and diversity of operations. They have been an epitome of financial inclusion as they have extended financial services to the underbanked. Through the use of cutting edge technologies, NBFCs have reached the underserved segments. They have ensured last mile delivery and enhanced customer experience.
NBFCs have been highly innovative in the lending space since the beginning and has played a vital role in the growth of the financial ecosystem, and it has proved to be more innovative as compared to the bank. The key factor for the NBFCs success includes customized and personalized loan product, quick processing and customer friendly credit policy. During the year 2019, the NBFC Market share was 18.6%. NBFC will continue to maintain its growth if the following factors are widely executed in the business.
Customized Loan Product
Personalized Customer service
Leveraging technology
Use of Digital channel of increasing reach
Improved and high-level Risk management tools
NBFC Market share is relatively low as compared to banks, but still Private lending business has been one of the emerging and profitable business in India.
NBFC help to meet the demand that remains unfulfilled by the traditional banking system in shorter processing time. Despite the slowdown in every industry, NBFCs continues to maintain its growth rate. The growth factor NBFC will continue, and Profitability will improve because digital lending/ Fintech as the new industry has entered in the lending space of the Indian Market.
Various NBFCs have been collaborating with different lenders who have digital platforms and commercial banks. This has raised their targeted customer base.
How are NBFCs different from Banks?
NBFC and Banks both are involved in financial activities, but there are some major points of differences between the two. They are as follows:
| | | |
| --- | --- | --- |
| Basis of Difference | NBFCs | Banks |
| Meaning | It is a financial institution that does not have a banking license but offers financial products and services to customers. | It is government authorized financial intermediary which aims at providing banking services to the public. |
| Governing Act | Companies Act 2013 | Banking Regulation Act 1949 |
| Licensing Requirements | Relatively easy to form NBFCs | Strict licensing requirements |
| Demand Deposit | Can't accept demand deposit | Can accept demand deposit |
| Foreign Investment | Allowed up to 100% | Allowed up to 74% for Private Sector Bank |
| Payment and Settlement system | Not a part of the System | An essential part of the System |
| Powers under SARFAESI | Don't have powers of recovery under SARFAESI | Can exercise powers of recovery under SARFAESI |
| Drawing Cheque | Cannot issue or draw cheques on its own | Can issue cheques freely |
| Requirement to maintain Reserve Ratios | Not Required | Mandatory |
| Deposit Insurance Facility | Not Available | Available |
| Credit Creation | NBFC does not create Credit | Bank create Credit |
| Transaction Services | Can't be provided | Can be Provided |
Types of NBFCs
As NBFCs have expanded its rise in India, it has also resulted in the categorization of NBFCs with NBFCs categorised under specific sectors/classes. Currently, NBFCs are classified based on two methods- (a) type of liabilities and its asset size; (b) nature of activities undertaken by the NBFCs. However, in the year 2021, a scalar based framework was introduced by the Reserve Bank, and the categorisation of NBFCs were revised.
Current Categorization of NBFCs
NBFCs can be categorised -
On the basis of their activity;
On the basis of liabilities.
NBFCs based on their activity-
Investment and Credit Company-
A company that does its principal business-asset finance by giving finance is termed as Investment and Credit Company. The investment and credit company was made after the RBI merged 3 NBFCs, namely- Asset Company, Investment Company and Loan Company into one.
Mortgage Guarantee Company-
Mortgage Guarantee Company refers to financial institutions for which minimum 90% of the business turnover is mortgage guarantee business or where minimum 90% of the gross income is from mortgage guarantee business and the net owned funds is 100 crore rupees.
Infrastructure Finance Company-
It is an NBFC that deploys minimum 75% of its total assets in the infrastructure loans and has a minimum net owned funds (nof) of 300 crore rupees and a CRAR of 15%.
Non-Operative Financial Holding Company (NOFHC)-
It is a type of financial institution that enables promoter or a group of promoters to set up new bank. It is a wholly owned NOFHC that holds bank and other financial services companies regulated by Reserve Bank or other financial sector regulators to an extent which is permissible under the applicable regulatory prescription.
A Micro Finance Company does the same functions just as banks do. They extend loans to small businesses that are underserved or are non-qualified to obtain loans.
It is a non-deposit taking NBFC. NBFC factors are engaged in the business of factoring. The financial assets in the NBFC factor must be minimum 50% of its total assets. Further, the income obtained from the factoring business must be more than 50% of its gross income.
Infrastructure debt fund NBFC
This is a type of a company registered as an NBFC that facilitates the flow of long term debt into infrastructure projects. IDF NBFCs can only be sponsored by infrastructure finance companies.
NBFC Account aggregators are licensed by RBI to operate as an account aggregator for customers. NBFC account aggregator provide financial information and maintain the record in a set format.
It is a digital lending platform that brings together lenders and borrowers. NBFC P2P has eased the tedious loan processing procedure in the country.
HFCs or Housing Finance Companies are NBFCs with its principal business of financing acquisition or construction of houses.
NBFCs based on their Liabilities-
Deposit taking NBFCs;
Non-Deposit Taking NBFCs.
Non-deposit taking NBFCs are further classified into-
Systematically important NBFCs;
Others
Revised Categorization of NBFCs
As per the revised framework, RBI has notified of 4 scale based layers to regulate NBFCs, namely- base layer, middle layer, upper layer and top layer. The table made below sets out the scalar approach adopted by the RBI, which categorises NBFCs into different layers.
DIFFERENT LAYERS

TYPES OF NBFCs

Base Layer

1. Non-deposit accepting NBFCs (including NBFC-ICC, NBFC-MFI, NBFC-Factor and NBFC-MGC) with an asset size of below 1000 crore rupees

2. NBFC-P2P

3. NBFC-Account Aggregator

4. NOFHC

5. Those NBFCs that haven't availed public funds and doesn't have any customer interface

Middle Layer

1. NBFC-D

2. Non-deposit accepting NBFCs with an asset size of more than 1000 crore rupees

3. HFC

4. CIC

5. NBFC-IFC

6. IDF

7. SPD

Note- Except for IDF and SPDs, all these NBFCs can be shifted to the upper layer

Upper Layer

1. RBI will identify NBFCs as warranting enhanced regulatory requirement

2. Top 10 NBFCs as per their asset size will be in the upper layer

3. RBI will scrutinise top 50 NBFCs as per their total exposure or identify other NBFCs to be included in this layer

4. Select NBFCs shall be intimated by the Reserve Bank and they are required to adopt a policy approved by the board of directors within 3 months for enhanced regulatory framework. Such framework needs to be implemented within 24 months.

5. When the NBFC has been categorised in the upper layer, it must remain in the upper layer for 5 years regardless of whether it satisfies the scoring criteria or not.

Top Layer

1. RBI shall identify and shift NBFCs to the top layer if it believes that the NBFC carries potential systematic risk.

2. RBI will not categorise an entity to the top layer if it doesn't find any systematic risk to the NBFC in the upper layer.
Evolution of Regulatory Framework for NBFCs
Regulatory Framework- 1998
The Reserve Bank had laid down certain regulatory framework for NBFCs in 1998 where it categorised NBFCs, defined deposit, provided for minimum credit rating and net owned fund and widened the scope for auditor's certificate.
Revised Regulatory Framework- 2014
The regulatory framework was revised in the year 2014 with the increase and expansion of NBFCs. The 2014 regulatory framework provided for minimum net owned fund of 2 crore rupees for NBFCs and it provided for harmonization of deposit acceptance across different categories of NBFCs. It also provided for review of corporate governance and norms for disclosure and rotation of auditor every 3 years applicable to NBFC-D and NBFC-ND-SI.
Scalar Based Regulatory Framework for NBFCs- 2021
On October 22, 2021, the Reserve Bank of India announced a scale based revised regulatory framework for NBFCs with a view to have a tight oversight of the sector. As per the scale based regulatory framework for Non-Banking Financial Companies, there will be more categories of NBFCs as per their activity with stringent rules.
The key highlights of the revision are as follows:
There will be a ceiling of 1 crore rupees per borrower for financing subscription to IPO.
The regulatory structure of the NBFCs will include 4 layers: Base Layer- Comprising non-deposit taking NBFCs below asset size of 1000 crore rupees; Middle Layer- Comprising of all deposit taking NBFCs, non-deposit taking NBFCs with an asset size of 1000 crore rupees and more; Upper Layer- The top 10 eligible NBFCs in terms of asset size will reside in this layer; Top Layer- This layer can get populated if regulator believes that there is a substantial increase in potential risk from specific NBFCs in upper layer.
The net owned fund requirement will be hiked for all NBFCs to 10 crore Rupees with certain exceptions-
| | | | |
| --- | --- | --- | --- |
| NBFCs | Present NOF | By Mar 2025 | By Mar 2027 |
| NBFC-ICC | 2 crore rupees | 5 crore rupees | 10 crore rupees |
| NBFC-MFI | 5 crore rupees | 7 crore rupees | 10 crore rupees |
| NBFC-Factors | 5 crore rupees | 7 crore rupees | 10 crore rupees |
In case of NBFC P2P, NBFC AA and NBFC without public funds and no customer interface, the net owned fund will be 2 crore rupees.
NBFCs will be required to recognise loans overdue for more than 90 days as NPAs by March 2026 and over 150 days by March 2024.
Note: These guidelines will be effective from 1st October 2022. Further, the instructions related to ceiling on IPO funding shall come into effect from 1st April 2022.
Role of NBFCs in India
At the time when the nation was facing worst economic crisis, businesses found it tough to stay afloat as there were no alternatives of getting finances to meet its needs. India had gaps in availability of credit and it became essential to have institutions that can be helpful in such situations. Here comes the role of NBFCs.
Over the years, NBFCs have played a key role in providing financial services to MSMEs to meet their business requirements. NBFCs have also led from the front in customizing financial services for different industries. NBFCs lend towards infrastructure projects which is necessary for developing country like India. NBFCs in India cater to both rural and urban areas as they fund the projects of both small and large scale businesses. It ensures all-inclusive growth.
Another area where NBFCs have played a crucial role in extending funds through equity participation. NBFCs provide long term credit to the trade and commerce sector. Apart from this, NBFCs have remained proactive in providing innovative financial products. This has facilitated growth greatly. They fine-tune their selling campaigns as per their target customers.
In a nutshell, NBFCs have played a massive role in the development of the Indian economy in the following ways: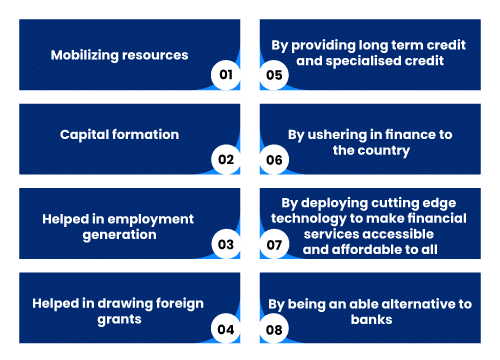 Mobilizing resources;
Capital formation;
Helped in employment generation;
Helped in drawing foreign grants;
By providing long term credit and specialised credit;
By ushering in finance to the country;
By deploying cutting edge technology to make financial services accessible and affordable to all;
By being an able alternative to banks as it provides a variety of services from helping in making investment in property and trading money market instruments to funding private education, among various others.
Pre-conditions to Register NBFC
The following conditions should be met before an NBFC is registered:
Firstly the financial institution desirous of obtaining NBFC Registration should be established as a company under the Companies Act 1956/2013;
Secondly, minimum of 1/3rd of the Directors should hold a minimum of 10 years of experience in finance, and such person should be employed as a full-time Director;
The applicant company should have a detailed business plan for the next 5 years;
The company needs to maintain net owned fund to obtain the registration. Currently, the company is required to have a net owned fund of 2 crore rupees, however, slight changes have been made after the introduction of the scalar based regulation by the RBI. (Note- You can find the revised net owned fund requirements below);
The CIBIL score of the company, its directors and its members should be acceptable, which would mean they don't have any record of default in paying loans;
The object clause specified in the Memorandum of Association must be in-line with the business plan;
The directors should meet the fit and proper criteria.
Net owned Fund for different NBFCs
Type of NBFC

Current NOF Requirements (INR)

Revised NOF Requirements (INR)

NBFC P2P

2 crore

No revision

NBFC-Account

Aggregator

2 crore

No revision

Investment and Credit Company (ICC) without public funds and without customer interface

2 crore

No revision

Other NBFC-ICC

2 crore

10 crore

NBFC-Factor

5 crore

10 crore

NBFC-Micro Finance Institution

5 crore

10 crore

Housing Finance Company

20 crore

No revision

NBFC-Mortgage Guarantee Company

100 crore

No revision

SPDs undertaking core activities only

150 crore

No revision

SPDs undertaking non-core activities

250 crore

No revision

NBFC-Infrastructure Debt Fund

300 crore

No revision

NBFC-Infrastructure Finance Companies

300 crore

No revision
Documents required for NBFC Registration
The following documents should be kept ready:
Company Incorporation Certificate;
Detailed information on management along with company brochure;
Copy of PAN/Corporate Identity Number (CIN) of the company;
Documents of the location/address;
A Certified copy of the Memorandum of Association & Articles of Association;
List of Directors' profile which should be duly signed by all directors;
Qualification certificate of directors as well as their experience certificate;
CIBIL/credit reports of the Directors of the Company;
Board resolution copy certifying that the company hasn't carried out or stopped NBFC activity and that it will not carry on such activity until the registration from RBI is obtained;
Board resolution on 'Fair Practices Code' and a certified copy of the same;
Certificate issued from the statutory auditor declaring that the company doesn't hold any public deposit and does not accept it;
Certificate specifying owned funds on the date of the application from a Statutory Auditor;
Shareholder KYC, CIBIL report, ITR and banker report;
Furnish information on bank account, balances, loans, credits, etc.;
Audited balance sheet as well as P&L statement with the directors and auditors report of the last three years;
Self-certified copy of bank statement and ITR;
Information specifying the future plan of the company with the projection of the following-
Balance sheets,
Cash flow statement and
Income statement.
NBFC Registration Process
The following process should be followed for NBFC Registration:
Firstly you need to register your company under the Companies Act 1956/2013;
You should ensure that the minimum net owned funds of the company is maintained as per the NBFC type;
Visit the official website of the Reserve Bank and fill the application form;
Submit the documents required for such registration along with the application;
When the application form is submitted, CARN number will be generated which will help you to track the status of your application;
You need to dispatch the application form to regional office of the Reserve Bank;
If your application for NBFC Registration meets the minimum requirements prescribed by the regulatory authority, registration will be granted.
Cancellation of NBFC Registration
You must be aware of certain grounds which may result in cancellation of NBFC Registration. Some of the grounds have been specified below-
If an NBFC fails to carry on the business activity of an NBFC, then it may result in registration cancellation of such NBFC. NBFCs need to carry out financial activities as stated at the time of applying for registration;
If the NBFC fails to meet the requirements or conditions specified under the act and any other compliance as required by the RBI like capital requirements, then also the registration may be cancelled;
In case where an NBFC fails to meet or adhere to the directions issued by the RBI from time to time, then its registration will be liable to be cancelled;
If an NBFC fails to maintain books of accounts or records as required by RBI Act 1934 or fails to submit the books of accounts, records and any other relevant documents to the RBI inspection purposes, then also the registration shall be cancelled;
If the NBFC is unable to repay its deposits, then its registration may be cancelled however the RBI shall provide such NBFC an opportunity to clear its stance before effecting an NBFC registration cancellation, as there may be a case where it is found that NBFC has a poor financial condition to able to repay deposits.
RBI is very particular when it comes to complying with its registration requirements and norms therefore, NBFCs should operate in the public interest and its policies must align with the circulars, notifications, and master directions issued by the RBI from time to time.
RBI departments regulating and supervising the functioning of NBFCs
The Reserve bank of India is an autonomous body, and it has two separate departments to regulate and supervise the functioning of the NBFCs.
DNBR (Department of Non-banking Regulation)
The DNBR is responsible for conducting the Fresh NBFC Registration process as well as is responsible for preparing the regulation and Polices for the NBFCs. The DNBR has transparent and innovative assessment process of NBFC Application.
The DNBR will send you an email and a formal notice if they need any additional documents during the NBFC registration process. The RBI expects your submission/response to the given notice within 7/15/30 days in accordance to the NBFC regulations.
Assessment of Application Submitted for NBFC License (All Category of NBFC);
Investigation of Directors / Shareholders Profile;
Communication with Applicant Company in Pre-Registration Process;
Communicates Final Decision to the applicant company with the Approval of Executive Director office (RBI);
Regulates & Administer NBFC Business in India;
Publish Notifications, Circular & Order for NBFC.
DNBS (Department of Non-Banking Supervision)
DNBS is responsible for post-registration compliance of the NBFC's and other administrative issues.
After Approval DNBR (Department of Non-banking Regulation) collects net owned certificate & bankers report – before they issue you the NBFC License (CoR) in Original
Responsible for complying the NBFC Rules and Regulations issued by the RBI
Conduct Audit / On-site inspection from time to time
Suspend / Cancel NBFC License in case of Non-Compliance with the Laws
Educate and conduct a seminar for the general awareness about the NBFC Regulations, Compliance and Business.
Essential things to know before you opt for NBFC Registration
As an applicant, you should ensure to do the following:
Approach NBFC Consultants
Select an experienced NBFC consultant who has the requisite proficiency in matters of NBFC compliance and banking laws. It is advisable to conduct reference check lest you engage a consultant who does not have expert knowledge of NBFC regulations. It may consequently lead to rejection of the application by the regulator.
As stated above, the applicant company should have a detailed business plan which includes the following components:
Founders and Executive Summary;
Loan Product Plan for 5 Years;
Credit and Underwriting process map;
SWOT Analysis;
Credit & Risk Model;
Competitors Analysis;
Lending model – Digital / Branch Model;
Financial forecast.
The middle name of the company must have Finance, Finserv, Final, Investment, Capital, Fintech, and Leasing etc. For Example, Enterslice Capital Private Limited
Create a Fixed Deposit of Rs. 2 Cr with a scheduled commercial bank
Verify the backgrounds of promoters
Scrutinize necessary documentation for obtaining an NBFC license
Submit an online COR application on the Website of RBI (COSMOS); thereafter, a CARN will be generated
RBI will scrutinize the submitted application and COR will be issued.
Penalty for Non-compliance as per RBI regulation
The Reserve Bank has the authority to impose penalties on NBFCs for violation of the provisions under the RBI Act. Such penalty is as follows:
The business when carried without a certificate of registration, the Reserve Bank can impose a fine of not less than one lakh rupees which can extend up to Rs. 5 lakh or twice the amount involved in such contravention, whichever is more.
The business carried without a certificate of registration is an offence which is punishable with imprisonment of not less than one year.
If the default is continued by the company, then penalty imposed up to Rs.25,000 per day after the first day of such default.
In case of any other contravention, a fine imposed of a maximum of Rs. 5,000 by the Reserve Bank.
If there is non-compliance with the orders of the Company Law Board is punishable with imprisonment up to three years and a fine of not less than Rs. 50 every day during which such non-compliance continues.
If any auditor fails to comply with any direction given by the Reserve Bank, he will be punishable with a fine up to Rs. 5,000.
NBFC Multi Regulator Model
Unlike UK, India works on a multi-regulator model. There are certain class of NBFCs regulated by other regulators than RBI. The flowchart made below outlines the various regulatory authorities regulating different financial institutions-