Overview of Company Registration
In India, company can be registered under different types like private Limited Company, Limited Liability Partnership, One Person Company. Setting up private limited company is one of the highly recommended ways to commence a business in India. Once you have decided to start a company, the first and foremost requirement is to select a favourable business structure to register the company in India. The choice of the right business structure will affect many factors starting from your business name, your liability towards your business, and also how to file your taxes and statutory dues. The financial and operational success of the company depends on the business structure, according to the process of online company registration in India.
One of the most cited legal structure options for businesses in India is a Private Limited Company Registration. Normally, Start-ups and potential companies prefer to have Company Registration as a private Limited company because it allows outside funding to be raised easily. It limits the liabilities of the shareholders and also enables them to offer Employee Stock Options (ESOP) to attract top talents. If you want to start a company in India, make sure you get Online Company Registration from our experts' help.
Benefits of Company Registration in India
Registering a company provides various benefits. It can help your business following ways:
It will be considered as a separate legal entity;
It protects from personal liability and ensures protection from other risks and losses;
Tax benefits are available to the directors of the company;
The company would be able to attract more customers;
The company will build goodwill for its brand;
With the help of company body structure, there can be a global reach;
Better dealing with suppliers, industries, vendors, and customers;
A registered company can sue or be sued in its name. The name of the entrepreneur will not be used here.
It is easy to distinguish oneself from others by entering into a corporate environment;
Ensures greater capital contribution and stability;
Enhances the potential for growth and further expansion;
Helps in procuring bank credits and investment from reliable investors easily.
Regulatory Authority for Company Registration in India
The primary regulatory authority for company registration process in India is the Ministry of Corporate Affairs (MCA). When an individual wants to establish a company, then all information and documents have to be submitted to the MCA for processing the application. After the company is incorporated specific documents have to be filed with the Registrar of Companies. Post incorporation compliances are also done with MCA.
Comparison between Different Company Structures
Here is some important information before you go ahead with company registration in India.
| | | | | |
| --- | --- | --- | --- | --- |
| | PRIVATE | LLP | OPC | PROPRIETORSHIP |
| Members | Minimum 2 | Minimum 2 | 1 | Maximum 1 |
| Legal Status | Separate Legal Entity | Separate Legal Entity | Separate Legal Entity | Not considered as Separate Legal Entity |
| Liability of Members | Limited to the extent of share capital | Liability of members is limited | Limited to the extent of share capital | Unlimited Liability |
| Registration | Registration under MCA | Registration under MCA | Registration under MCA | Not mandatory |
| Transferability | Permitted | Permitted | Permitted to only one person | Not Permitted |
Check List for Registering a Company in India
Before moving ahead with the process of registration, we advise you to go through the following checklists:
Minimum 2 Person/Directors

To register as a private Limited company in India, a minimum of two persons is required, who must act as shareholders or directors of the company and a company can have up to 15 directors. If the shareholders are foreign nationals then the requirement of submitting a passport and other documents is mandatory.

Unique Name

The name of the business should be unique and the proposed name should not be similar to any existing companies. Moreover, you also need to verify the trademark registry to ensure that the name is not similar to any registered or applied trademark in India. The name of the company must not go against any provisions of any intellectual property law in force in India. The name must not go against the Copyrights Act or the Trade Marks Law of India.

Capital Requirement

Investment must be made as per the necessity of the business, and there is no least capital requirement for a company. However, while measuring capital, even the Government fee is added. Minimum capitalisation requirements are considered under this.

Registered Office

The registered office does not need to have a commercial space. Even a rented home can become a registered office, but NOC from the landlord should be obtained.
Looking for a free Company Registration Guide?
Download our free company registration guide
Download Free PDF
Procedure to Online Register a Company in India
By registering a company start-ups enjoy various benefits as it offers them an advantage over those who have not registered. The process of registering a company may be complex for some as it involves different compliances.
Below we have discussed the process of company registration: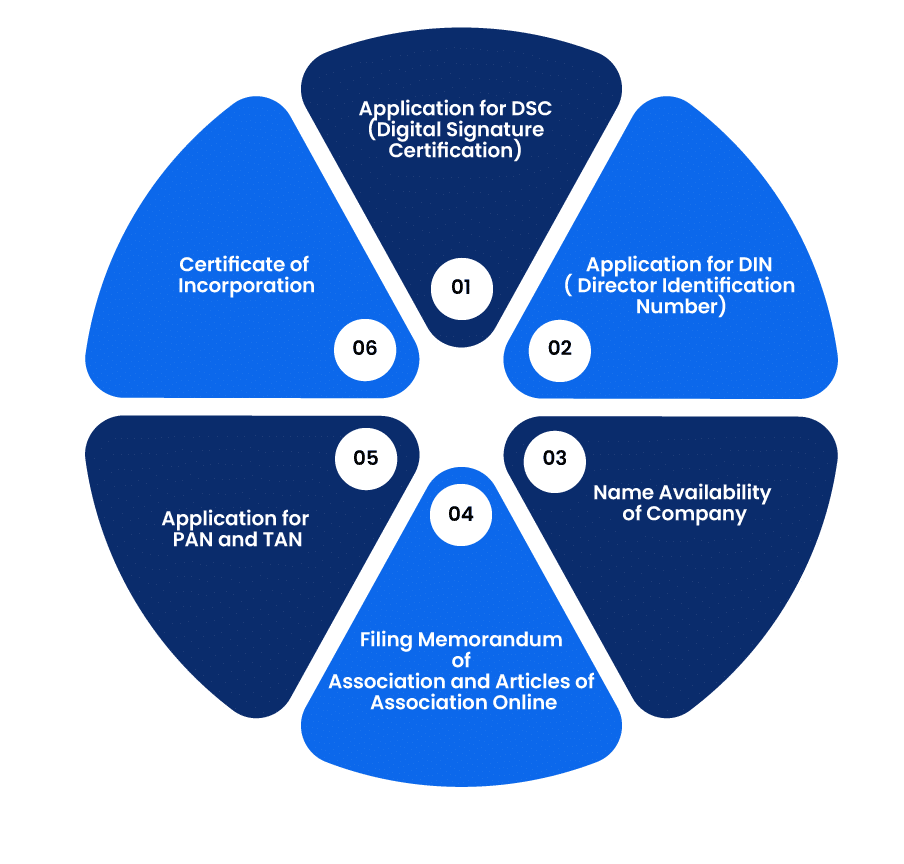 Application for DSC (Digital Signature Certification)

The first step in making an application for company registration is applying for a Digital Signature Certificate (DSC). A digital signature certificate is a legal document which is used for verification of information. Usually the digital signature certificate is used for signing some electronic documentation. Hence, when incorporating a company, remember to apply for the DSC with the Ministry of Corporate Affairs (MCA).

Application for DIN ( Director Identification Number)

Once you have applied for the DSC, it is crucial to apply for the director identification number also known as DIN. DIN would indicate that all compliances have been met by the company when recruiting a director. The applicant for company registration has to apply for the director identification number for the company.

Name Availability of Company

Next step is to check the company name. This process is mandatory under company registration. When you check the name of the company, the portal will intimate you if the name is already chosen and if it goes against any provisions of intellectual property law in force in India. Checking the name availability of the company can be carried out online on the MCA portal.

Filing Memorandum of Association and Articles of Association Online

The applicant for company registration has to file documents such as the memorandum of association and articles of association online. Filing these documents would provide legal certainty of formation of the company. This process must be carried out through the Ministry of Corporate Affairs Portal.

Application for PAN and TAN

After all filings are complete, the applicant must consider applying for securing a PAN and TAN number.

Certificate of Incorporation

Once the above process is over, the MCA and ROC will review the application and if there are no issues, then a certificate of incorporation would be granted to the applicant. The certificate of incorporation is a legal document which provides some form of legal status to the company.
Online Company Registration: Documents required
There are certain essential documents that are required for the registration process. They are as follows:
Copy of PAN Card or Passport of directors (Foreign Nationals &NRIs)
2 Passport size photographs of directors of the company
ID proof such as Aadhaar Card or Voter identity card of directors
Copy of address proof rent agreement or property papers
Electricity or Water bill of company place
Landlord NOC in case of rented office
In the case of personal property, a copy of sale deed or property deed
For foreign nationals, a notarized copy of the passport must be submitted mandatorily. Only valid documents need to be submitted. The residence proof documents like a bank statement or electricity bill must be less than two months old.
Registered Office Proof
Note- To get company registration in India, the company must have a registered office. In order to prove the functionality of the registered office, a recent copy of the electricity bill or the property tax receipt or water bill must be submitted. Along with the rental agreement, utility bill, or the sales deed and a letter from the landlord with her/his consent to be used to register the particular address as the registered office.
Recent updates- Company Registration
Mar 9, 2020- SPICEe+ Form requires Mandatory Registration of EPFO & ESIC
After the introduction of SPICe+ (e-form) for incorporation of company, registrations for EPFO and ESIC shall be mandatory for all the registered organizations, and none shall be separately issued by the respective agencies.
Mar 06, 2020- Company Registration must be done in a new MCA portal
A Public, Private, and one person company registration in the EPFO, ESIC will be done on the new MCA portal. It simplifies the registration process by using a new web form SPICe+ (Simplified Proforma for Incorporating Company Electronically Plus), integrating ten services from various departments.
How Enterslice will help you
Fill The Form
Get a Callback
Submit Document
Track Progress
Get Deliverables