Central KYC Registry - An Overview
Central KYC registry often referred as CKYC is basically, a centralized repository for maintaining the record of customer's KYC records. It employs uniform KYC norms and inter-usability of the KYC records among various concerned sectors. CKYC is introduced with an objective to reduce the hassle of providing customer's KYC Documents again and again and getting them verified each and every time a customer builds relationship with a financial entity. The CERSAI (The Central Registry of Securitization and Asset Reconstruction and Security Interest) manages the Central KYC norms.
In India, Central KYC is rapidly getting adopted and a person who requires central KYC can approach financial institutions regulated by respective Authorities i.e. RBI, SEBI, IRDA or PFRDA to get the same done. Further KYC can also be done with a bank, the Insurance Company, Mutual Fund Company and a stockbroker.
What are the Salient Features of Central KYC Registry?
The salient features of the CKYC or Central KYC Registry is as follows: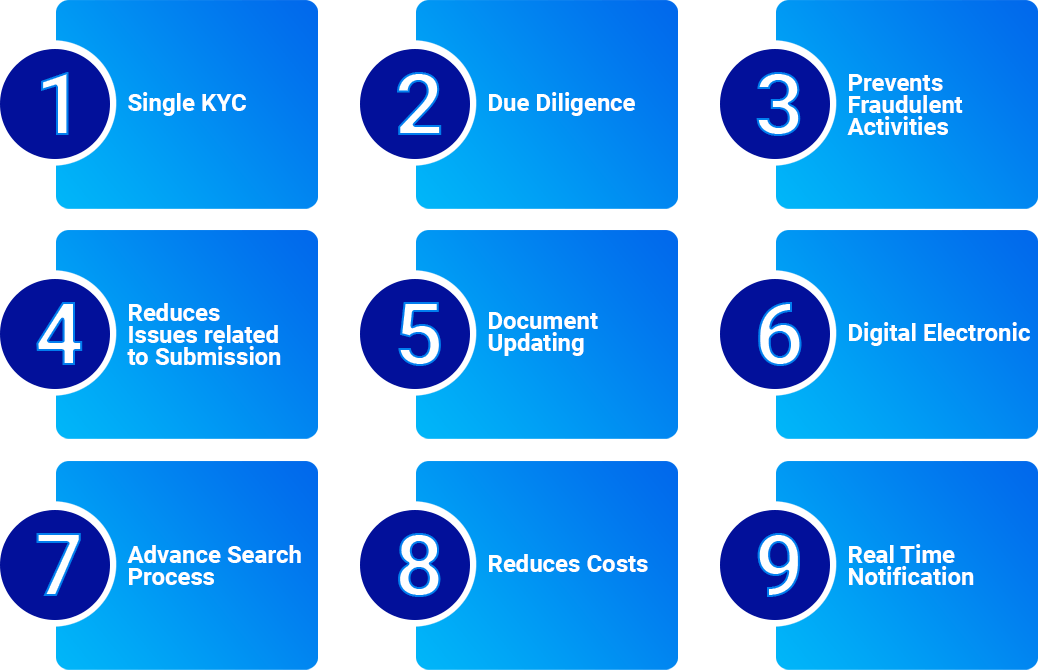 Single KYC

The Government of India brought out this requirement in the Central KYC registry to ensure uniformity when it comes to accessing of records and other forms of financial information related to the customer. Through the Central KYC registry, there is a single KYC process carried out for customers.

Due Diligence

Before entering into a particular transaction or a contract, comprehensive due diligence requirements is carried out to ensure that the information is legitimate. Through this form of Central KYC registry different forms of due diligence can be carried out to enable smooth transition across different sectors. By carrying out different forms of Customer Due Diligence process would be waste of time. Hence through the Central KYC registry one due diligence would be carried out to ensure that the customer and information provided is legitimate.

Prevents Fraudulent Activities

By carrying out registering with the Central KYC registry different forms of organised crimes such as money laundering and fraud can be avoided. Through this register, different forms of entities can be identified. For example if a company is registering its entity or branch office in India, then the branch office can be officially registered in the registry. Through this process it would be easy to find out companies which are establishing their offices from grey listed jurisdictions. Such jurisdictions would be as per the requirements of the Financial Action Task Force (FATF).

Reduces Issues related to Submission

This registry reduces the submission process of documents utilised for due diligence. Through this the applicant can freely go to other institutions without any form of KYC registration. The details would be present in the Central Repository. Through this central Repository, such information would be retrieved related to the customer. Hence such system would be utilised to ultimately reduce the process of submission and avoid any form of repeated submissions.

Document Updating

Different processes related to documents can be carried out through this system. As it is highly integrated to other servers, different types of services related to document identification, search and updating can be carried out through the Central KYC registry. Identification of documents can also occur through such systems.

Digital Electronic Modes

The Central KYC registry uses integrated systems related data synchronisation and digital implementation. All the data is stored in electronic format. Hence it would become easy to process the information. Apart from this information stored in digital format makes it easy for authentication. KYC Data is stored in a digitally secure electronic format so, it is safe to use.

Advance Search Process

Through this form of registry, documents search can be carried out. Through this form of repository documents can be searched from multiple entities. Even archived documents can be searched through such process. Using such methods for carrying out the search would be highly beneficial.

Reduces Cost

Having a single system related to Central KYC registry would reduce the overall cost of a particular process. As securing information is time consuming, the entity which seeks out for information would save time in getting information. Apart from this carrying out regular KYC checks would be avoided. Regular KYC checks through the system would be time consuming as well as costly. An entity can utilise the above system to carry out uniform single KYC check thus reducing amount of costs.

Real time Notification

Whenever records related to information is changed in this system all the entities would be notified related to any form of changes. In CKYC real time notification is sent to all concerned institutions when any of the detail is changed. Due to this feature all institutions can be updated through frequent notifications.
What is Central KYC Records Registry?
Central KYC Records Registry is a reporting entity which is owned, controlled and authorized by the Central Government through official notification in the official gazette to safeguard the KYC records in the digital form and perform such functions as may be required. It includes receiving, storing and retrieving the KYC records of the clients. This registry is maintained by the Central Government authorities and all information related to the entity can be accessed through this.
Who can access the Central KYC Registry?
Authorized institution or is any other notified institution under the Prevention of Money Laundering Act or other rules provided by the Government of India or any other regulators is only authorized to access the CKYC Applications. These regulators include SEBI, RBI, IRDA and PFRDA.
Process for Financial Institutions to Register with Central KYC Registry
First and Foremost, the applicant has to secure the Central KYC Registry Form from the concerned website. Central KYC form is obtained from the AMC or KRA website or registrar. The process for Financial Institutions to register with the Central KYC Registry is as follows:
Visit the official website of CKYC.
Click to resister a new FI registration.
You would need to add details of individual managing the details related to the website. Such individual would be known as the admins.
Then, you will be asked to enter details of your financial institution.
Provide the detail of the regulating body you are registered with.
It is mandatory for you to have at least two digital signatures to be able to start your operations.
You need to download the filled FI registration form and submit it along with the required documents.
Upon submission of the registration form the system generates a temporary reference number and sends it to the nodal officer.
Then you need to test all the functionalities as per the prescribed checklist.
CERSAI will then verify your application and approve it if details are correct.
Note- In case of discrepancies the CERSAI will put your application on hold and inform you via e-mail.
Documents required for Central KYC Registry Registration for Financial Institutions
Below mentioned are the documents that you need to need to get for the CKYC:
A Duly signed Institution Registration Form of the FI
License, Certificate, Notification issued by the regulator
PAN card of the Financial Entity
Corporate Identification number in case the Institutions holds multiple Licenses
In the case of Co- Operative Banks or Societies, you need to submit Registration Certificate issued by the concerned authority
The Authorization letter from competent authority for Admin Users should be signed by the Authorized Signatory/ Director
Certified copy of the photo identity card of the user administrator issued by the respective institution
Certified copy of any ID proof of the user administrator.
Note - Once the required documents are submitted/uploaded on the Central KYC servers it is verified and registered within 2 weeks after it is uploaded. An applicant investor can start investing immediately. Central KYC not only saves the physical submission of documents but also avoids any hassle to the investor.
Procedure for Central KYC Registry registration for Individuals
The procedure to resister yourself on CKYC is as follows:
Visit the site CKYC.
Once you enter your PAN, the system checks if it is a valid PAN and if you are already KYC verified.
If your KYC is already verified, it will alert you and ask you if you wish to modify your KYC details.
Any modification can be done by pressing the continue button.
Enter your Name, Mobile Number, Email and Aadhaar (UID) Number.
To receive communication from the AMC, tick the checkbox to accept and then click on submit.
Further, on the next page add more personal details required for Central KYC.
Attachment of self-certified copies of the PAN card and the Aadhaar card.
Add the photo by clicking through the camera.
Sign on a plain piece of paper for uploading the signature and show it to the device camera and the camera will capture it.
In-person verification via a live video recording through your device camera.
Finally, you need to provide a confirmation, that all the information provided and submitted is true and best to your knowledge.
Documents Required for CKYC Registration for Individuals
Below mentioned are the documents required for CKYC forms:
Proof of Identity i.e. Passport, Voter Id card, PAN card, Driving License and other document notified the Central government
Proof of Address i.e. Aadhaar Card, Passport, Voter Id card, PAN card, Driving License along with the copies supported by original documents at the time of submission for verification
The documents should be self-attested along with the photograph
Signature on the plain paper
Web Camera with a smooth internet connection
Contact details
Details of the related person i.e. Guardian of Minor, Authorized representative.
Note - If Identity proof does not contain the address, or the address is not valid then only address proof is required as a further document. In case the Applicant investor has multiple correspondence addresses, Annexure is required to be submitted along with the Central KYC registry form.
FATCA Declaration - A declaration has to be made by the investor to provide a declaration related to the Foreign Account Tax Compliance Act. FATCA declaration is made to prevent people from tax evasion.
Once the investor submits the form and the information provided is verified, a unique KIN (KYC Identification number) is generated and communicated to the applicant via SMS/email.
Note-Individual Investor (Resident and NRI) are eligible to apply for Central KYC
How to reach Enterslice for Central KYC Registry Process
Fill The Form
Get a Callback
Submit Document
Track Progress
Get Deliverables