What is Income Tax Return Filing?
Income Tax Return filing is the process of providing a declaration about the Income and Expenditure of the taxpayer to the Income Tax Department. This declaration is used to determine the tax liability of the taxpayer.
The tax liability is decided based on the current tax rate slab. The income tax department prescribes this tax slab.
ITR Filing is mandatory for Taxpayers whose income exceeds the prescribed income limit. This process is regulated under the Income Tax Act 1961.
The declaration contains details about the income earned during the period of 1st April to 31st March which is called Financial Year.
(If you want to know the income tax payable by you, then you can use this calculator - Income Tax Calculator)
Who Should File an Income Tax Return?
Every individual must file return of income in case where his total income (including income of any other person in respect of which he is assessable) without giving effect to provisions of section 10(38), 10A, 10B/ 10BA/ 154/ 54B/ 54D/ 54EC/ 54F/ 54G/ 54GA/ 54GB Chapter VIA (deduction under section 80C to section 80U), exceeds the maximum amount not chargeable to tax which means exceeds the exemption limit.
An Individual, being a resident as well as ordinary resident in India, must file return of Income, even if such individuals' income doesn't exceed the maximum exemption limit on the following grounds:
Holds, as a beneficial owner or otherwise, any asset (including any financial interest in an entity) outside India
Has the signing authority in an account located outside India
Is a beneficiary of an asset (including any financial interest in any entity) located outside India.
An Individual or HUF has to file return of Income, even if the income doesn't exceed the maximum exemption limit, if he has deposited an amount (or an aggregate of amount) more than 1 crore rupees in one or more current accounts maintained with banking company or co-operative bank.
An Individual or HUF has to file return of Income, even if his income does not exceed maximum exemption limit, in case where he has incurred more than 2 lakh rupees on travel to a foreign country, either for himself or for any other person.
Further an Individual or HUF must file return of Income, even if the income doesn't exceed the maximum exemption limit, if he has incurred expenditure more than 1 lakh rupees on electricity consumption.
The ITR filing is mandatory for Partnerships Firm, Sole Proprietorship Firm, Companies, and LLPs irrespective of their turnover, income, profit or loss.
What are the benefits of Filing Income Tax Returns?
There are various benefits of filing Income Tax Return. Some of them are as follows: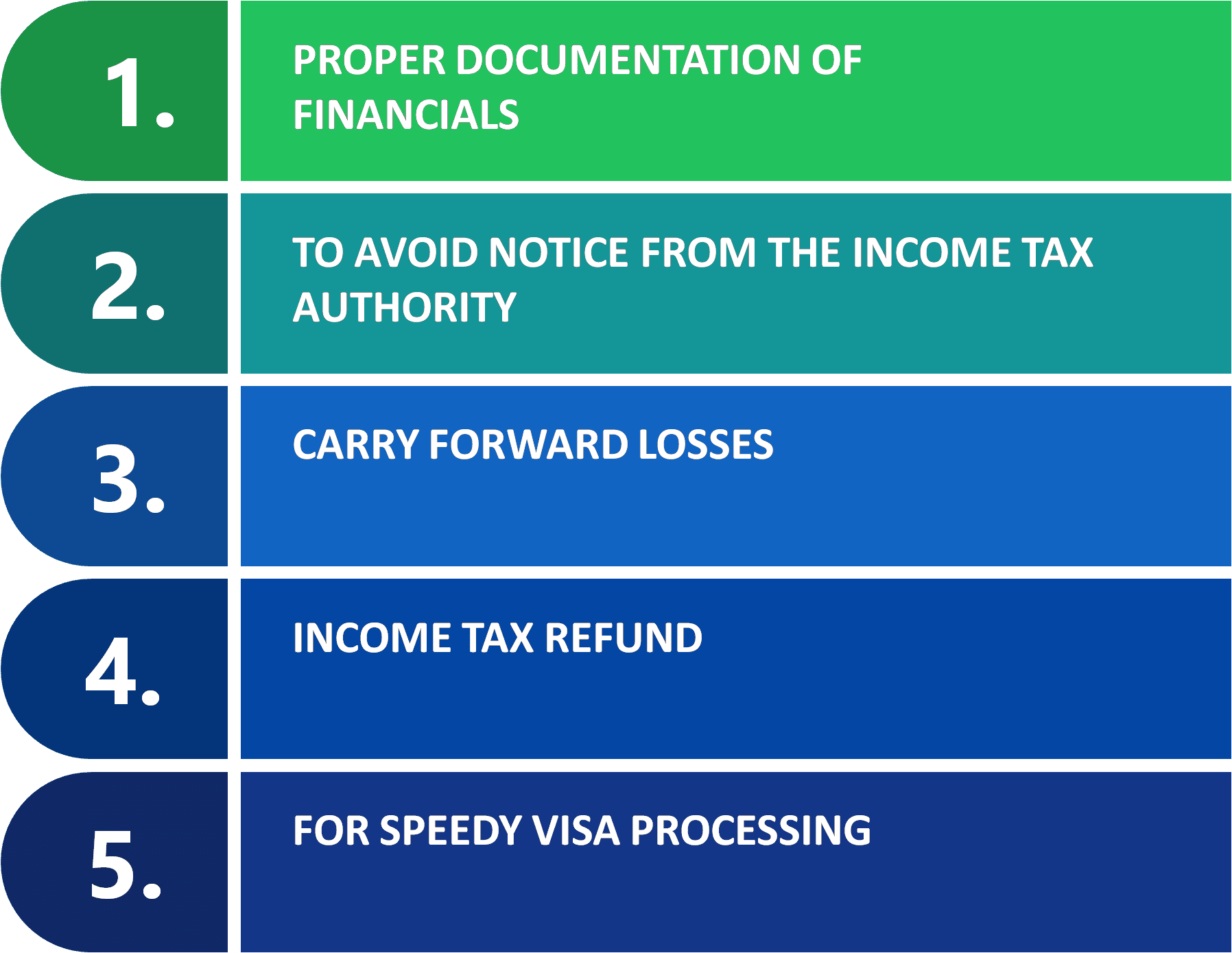 Proper Documentation of Financials

Documents related to ITR Filing are proof of financials. Proper financial documentation is a must for availing loan or a visa.

To Avoid Notice from the Income Tax Authority

In case of delayed or incorrect submission of ITR, notice is served by the Income Tax department.

Carry Forward Losses

With ITR Filing, losses can be carried forward against house property & depreciation.

Income Tax Refund

At the time of Income Tax Return filing, you can claim for Income Tax Refund.

For Speedy Visa Processing

For speedy visa processing, embassies ask for the submission of Income Tax Return of the last 3 years.
Due Dates for the Income Tax Return Filing
The due dates for filing ITR are provided below:
Individual/HUF whose accounts have to be audited or partner of a firm whose accounts must be audited or spouse of such partner in case where the provisions of section 5A apply- 31st October of the assessment year is the due date.
Filing of return where the taxpayer (corporate/non-corporate including partners of the Firm) is required to provide a report in Form No. 3CEB under section 92E- 30th November of the assessment year.
In all other cases- 31st July of the assessment year.
How to File an Income Tax Return?
A taxpayer can file his Income Tax Return online on the Website of Income Tax Department. However, it is advisable to take the help of industry professionals.
Taking assistance from professionals can help in filing the right declaration of income, get an appropriate refund and avoid penalties for late or incorrect filing.
A 15-digit acknowledgment number will be generated once the Income Tax Return is filed. After this, you have to verify your tax return. ITR can be filed using Net banking accounts.
Documents for Income Tax Filing
The following shall be required in case of ITR Filing:
Basic information such as PAN, Aadhaar card number, and detail of the current address will be required.
Bank account details will be required of the given financial year. For ITR filing, it is a mandatory disclosure.
Other disclosures regarding income from salary, fixed deposits, savings bank account are also required.
Information regarding deduction claimed under section 80.
Information regarding TDS return filing and advance tax payments.
What are the different ITR Deductions Available?
Deduction under Section 80C

The amount paid or deposited in PF, PPF, LIC premium paid, NSC (National Savings Certificate), ULIP, principal repayment of housing loan, tuition fees, term deposit in the bank, deposit in Senior Citizen savings scheme, etc. Benefit of this deduction can be enjoyed by individuals and HUFs. It is worth mentioning here that Companies, partnership firms, LLPs can't get this benefit.

Deduction under Section 80D

It can be claimed by individuals as well as HUF for medical insurance & preventive health checkup.

Deduction under Section 80E

Individuals can request for an 80E deduction for the repayment of interest on the loan, concerning a loan obtained for a higher education.

Deduction under Section 80EE

An additional deduction can be claimed under this section like interest paid on housing loan paid through EMI.

Deduction under Section 80G

The deduction under section 80G is claimed in respect of the donations to specific funds, charitable institutions.
Common Mistakes at the time of filing Income Tax Return
Some of the common errors which must be avoided at the time of ITR Filing are listed below:
Selection of the incorrect form

One should select the correct ITR form based on the income and category of the taxpayer.

Selection of the Wrong Assessment Year

Correct assessment year must be ensured at the time of ITR filing; otherwise, it may attract double taxation and unwanted penalties.

Incorrect input of details

At the time of filing ITR, it must be ensured that personal information of the assessee such as name, address, E-mail Id, mobile number, PAN, date of birth are correct.

Not disclosing the complete source of Income

All the income generated from any source other than the primary reference must be fully revealed irrespective of the fact that it is taxable income or exempt.

TDS is not reconciled with form 26AS

Form 26AS must be reconciled with form 16.

Verification of return

After the Income tax return filing, it must be e-verified through net-banking, or EVC process on mobile number and via email.
Penalty for Non filing of Income Tax Return
There are specific penalty provisions in case taxpayer does not file ITR on time. The penalty is charged, on the late payment of income tax. The maximum amount for penalty is Rs 10,000/-. However in case of small taxpayers, the Income Tax Department said that where the total income is not more than 5 lakh rupees, the maximum penalty that can be levied for delay shall only be 1000 rupees. It has come as a huge relief to small taxpayers.
How Enterslice will help you
Fill The Form
Get a Callback
Submit Document
Track Progress
Get Deliverables