What is Gems and Jewellery Service?
Indian Gems and Jewellery area contributes to more than 16% of the exports and other forms of merchandise carried out in India. Apart from this, India is the largest manufacture of polished and semi-cute diamonds in the world. Added to this, India exports more than 90% of the polished diamonds across the globe. Many businesses want to start businesses related to Gems and Jewellery Service. Starting gems and jewellery service would require professional assistance. At Enterslice, our professionals are well versed in providing professional support and assistance for your gems and jewellery service.
Factors that Contribute to the increase of Gems and jewellery service in India
Different factors contribute to the development of Gems and Jewellery Service in India: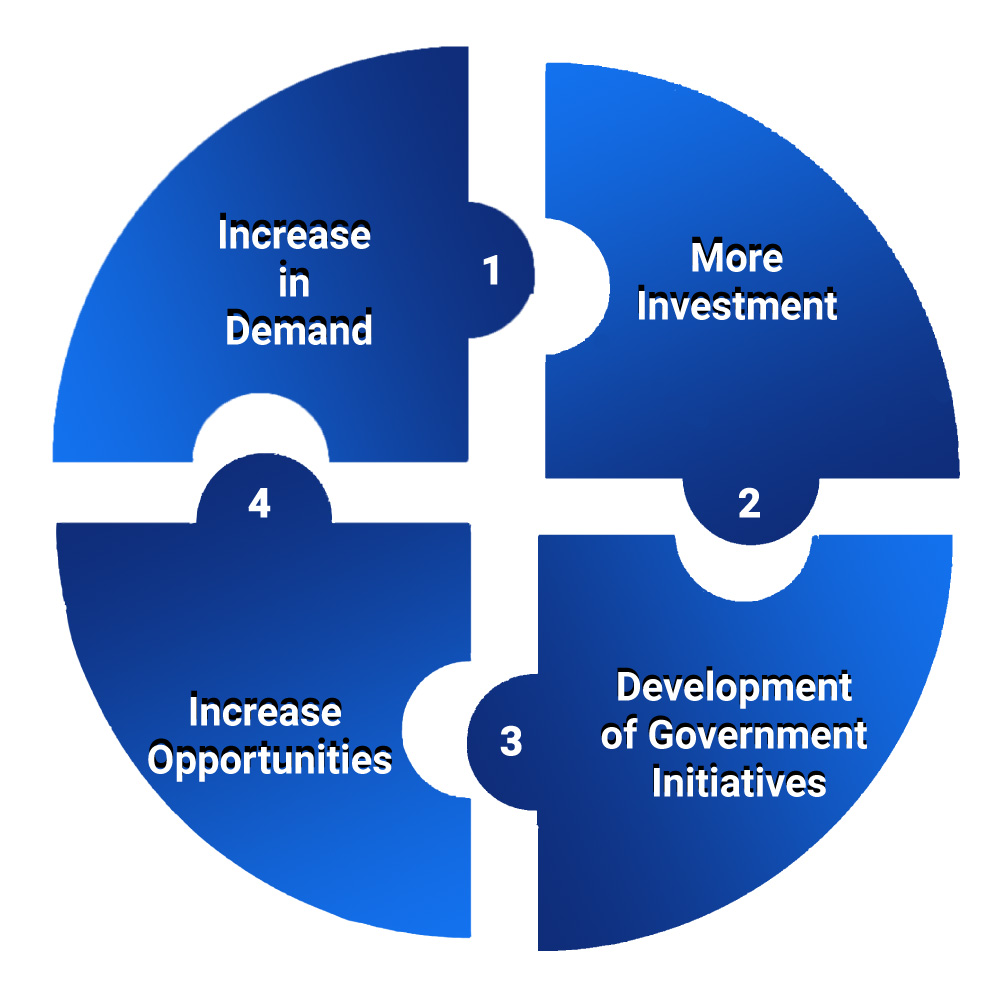 As of 2017, India is considered as one of the largest consumers of Gold in the world. The demand for gold and similar products has increased in the year 2017 more than 11%. The amount of demand is projected to increase by more than 15% in the upcoming years. Apart from this, the gems and jewellery service products are high yielding. In the financial year 2017-18, India has imported gems and jewellery of value more than USD 30 billion. This figure is set to increase in the coming years.
This sector has a thriving investment from domestic sources as well as international sources. Foreign direct investment (FDI) is allowed in India through different routes. The routes for FDI are the automatic route and the approval route (government route). When it comes to the area of exploration and extracting precious stones and diamonds, up to 74%, FDI is permitted. This investment is through the automatic route. For an exploration of gold and mining sectors, FDI up to 100% is allowed through the automatic route. There is no form of approval required for exploration and mining of precious stones and gold/ silver. More than USD 1 billion foreign direct investments have been allowed for this sector to develop. Companies present in India are also investing in this sector.
Development of Government Initiatives
For increasing the amount of investment in this sector, the Government of India has brought out different incentives at the state level and national level. The DIPP (now known as the DPIIT) has considered allowing FDI (foreign direct investment) under the automatic route. Foreign investment up to 100% is permitted under this route. Government of India has brought out the Goods and Services Tax Regime (GST) in 2017. A minimum amount of 3% is charged on gold, silver, and processed diamonds. 0.25% GST is levied on rough diamonds which are not processed. At the state level, different institutions have come up to support gems and jewellery services for further development.
This sector attracts younger middle-class sectors of society. Employment opportunities have also increased due to in-house demand and international demand. Large firms dealing with gems and jewellery services have established business hubs throughout the world and are present in cities such as New York, London, Singapore, and Hong Kong.
Challenges faced by Gems and Jewellery Service Business
Due to increased growth in the above business, there are phenomenal opportunities in this sector. However, even though opportunities are present in this sector, there are also different forms of risks. The following are the risks present in the above sector: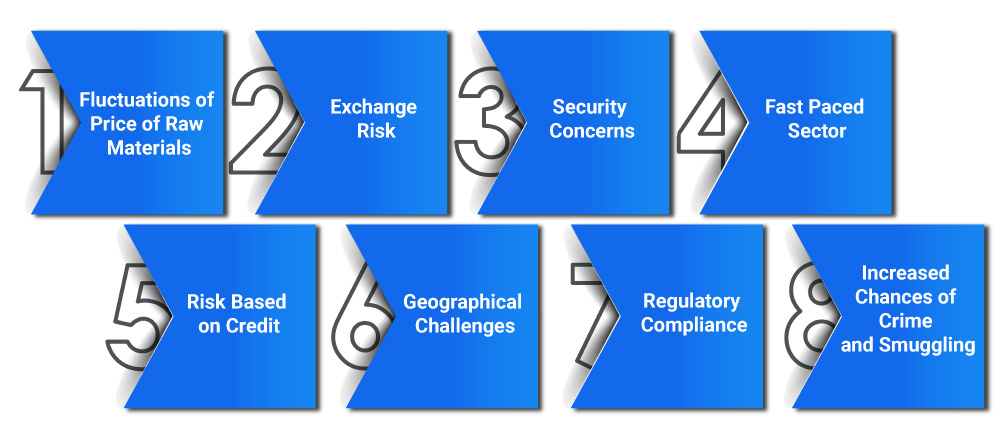 Fluctuations of Price of Raw Materials
One of the main risks in this sector is the fluctuations in prices of raw materials. For example, the Covid-19 crisis has caused the gold prices to skyrocket to a new high. Not only the prices of gold have increased, but the prices of silver products are also affected. Usually, the prices of gold and silver are linked to the value of crude oil. If the prices of crude oil changes, then fluctuations in the price of gold and silver are bound to occur.
When gold is exported from India to another country; there is also some form of apparent foreign exchange risk. There can be fluctuations in the prices of Gems and Jewellery products due to this. This can be detrimental for the business entities that carry out the business of gems and jewellery services.
Security Concerns in this sector is one of the biggest issues. Usually, goods have some value derived at the end of the manufacturing process (when the final product) is produced. However, in this segment, there is value in the raw materials as well as the finished goods. When gold and other precious stones are extracted from mines, they have value. Their value is improved as the product is processed and is given final touches. Hence there are security concerns in different processes which involve a lot of investment. At every stage, security protocols are required for precious stones. Therefore, this poses a major challenge to the gems and jewellery service business.
The above sector is fast-paced and ever-changing. The models which are preferred by generation X buyers may not be in fashion and preferred by generation Z buyers. They may go in for a modern type of precious stones and jewellery. Hence, individuals carrying out the business of gems and jewellery service have to keep in mind the changing trends of consumers. According to the preferences of consumers, the businesses that carry out gems and jewellery services have to change.
As gold and other precious stones are an investment; there can be an increase in credit risk, which is bad for the investor. For example, an individual who does not have any knowledge of investing in gold invests the same. If the prices of gold changes and reduces, then it would form a credit risk for the investor. Similarly, there are other forms of credit based risks which are present with precious stones which may be risky based on the investment.
Demand for gems and jewellery services can be high in one country such as India. The demand for precious stones is high in places such as the Middle East and Singapore. However, the same demand may not be present in the European Union and the UK. In the UK, local consumers prefer diamond and platinum-based stones. Hence, demand can depend on consumer preferences, location preferences and other factors.
In the Gems and Jewellery Service, international demand is on the rise. With the increased demand for such products, there will be more form of international regulation and compliance. For example, the Government of India has made FDI for extracting a different form of precious metals as well as gold and silver under the automatic route. There is no form of prior approval required from the Indian Government. 100% foreign investment is allowed under this route. However, legal and regulatory compliance may not be the same in every country.
Increased Chances of Crime and Smuggling
In the precious stones industry, there is increased chances of smuggling. In India, the PMLA (Prevention of Money Laundering Act, 2002) keeps constant checks into areas of smuggling gold and other forms of precious stones. Apart from this, customs authorities in India would detain any individual if found carrying out activities such as smuggling gold and other forms of precious stones. Authorities have to increase compliance and vigilance in areas where the law has to be observed and complied with.
What are the Gems and Jewellery Service offered by Enterslice?
At Enterslice, we have professionals who understand the needs of your organization. Based on the service which your organization requires, we will provide the following services:
Consultancy Based Services
Our consultancy services would include company formation services along with the suitable type of business entity which your organizations use for starting the business.
As tax experts, Enterslice can provide you with important updates on how the tax would apply to gems and jewellery service. Right from GST computation services to different types of tax services can be availed by your organization. We will assist you in computing GST for gold and silver (levied percentage 3%). Apart from GST computation, we will also provide advise on consolidation services which are offered by us.
International Tax Compliance
In case your business or organization wants to expand the gems and jewellery service to another country. We offer services such as GAAP, Ind AS and International Accounting Based Standards advisory. Right from complying with the respective tax in a particular country to tax consultancy services, Enterslice is a one-stop-shop for all your business needs.
Foreign Exchange Management Compliance
We also provide services related to foreign exchange management compliance. Under this our services would comprise on any form of advice related to Reserve Bank of India (RBI) for storing gold, currencies and other precious gems from other countries). We also provide inbound and outbound related compliance for investment in gold and other forms of precious gems. Apart from this, we also provide compliance-related services under the Foreign Exchange Management Act, 1999.
As management consultants, we would provide you advice on Mergers and Acquisitions, Deal Analytics and due diligence services. However, our advice would be on companies offering similar products in the gems and jewellery sector. We would also cover different form of agreements such as Joint Venture Agreements, Vendor Agreements, and Confidentiality Agreements.
Our services would also cover advisory based on corporate regulation, compliance under the Companies Act, 2013 and respective international regulations. Our commercial advisory services would include advice on international agreements, insurance contracts, and marine-based agreements for shipment of products by air and sea.
By using our focused risk-based management services; your organization can understand and mitigate different form of risks which are prone in the sector. The type of risks in this sector would depend on factors such as market fluctuation, changing demand of consumers and other forms of risks.
Enterslice Advantage- Gems and Jewellery Service
Enterslice is a recognized consultant for providing services related to gems and jewellery service. We have advised different companies on domestic.
We have multifaceted teams of professionals comprising Chartered Accountants, lawyers, and company secretaries and business professionals.
We have extensive experience in handling the different compliance-related gems and jewellery service in India.
We engage a large number of industries that are present in the gems and jewellery sector.
Our service is cost-effective.
How to reach Enterslice?
Fill The Form
Get a Callback
Submit Document
Track Progress
Get Deliverables