What are E-Commerce Services?
An individual or entrepreneur requires a structured business plan to start an e-commerce website. Along with this business plan, the individual requires competent regulatory advice on starting an e-commerce company. Advice on E-commerce services would include the type of business structure which is feasible to start an e-commerce company. Apart from these, e-commerce services cover all the areas which are crucial for starting an e-commerce company.
What are the types of E-Commerce Businesses?
There are four types of e-commerce businesses. At Enterslice, the following types of e-commerce services are provided by us: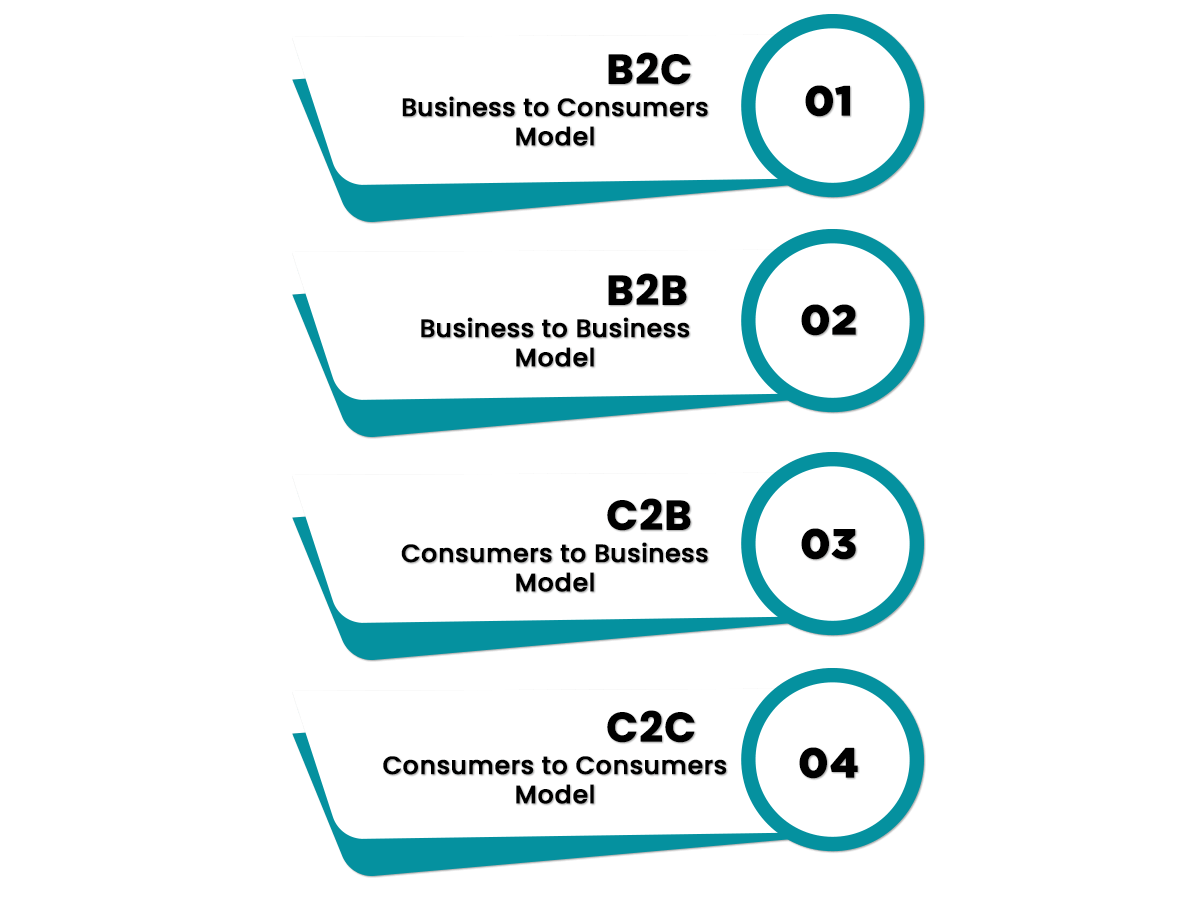 B2C- Business to Consumers Model
When an e-commerce company provides products to the consumer. This is known as the B2C model. A typical example of a B2C model is Amazon or Flipkart Services.
B2B- Business to Business Model
When an e-commerce company sells its products and services to another business. This is known as a B2B model. A typical example of a B2B model is a business that uses an e-commerce platform to supply its products to corporate customers.
C2B- Consumers to Business Model
When individuals and consumers are allowed to sell goods to a company. This is known as a C2B model. A typical example of the C2B model is when a company recruits freelancers. Freelancers hired by a company do services for a company on a contract basis or on-going basis.
C2C- Consumers to Consumers Model
When consumers sell products online to other consumers, the model is known as the C2C model. A typical example of the C2C model is Face book Market- where users of the social media content.
Objectives of E-Commerce Services
E-commerce services are provided to guide an individual or entrepreneur to start an e-commerce website.
Starting an E-commerce company is not an easy task. Hence services offered by us will provide you the required expertise to begin a fully-fledged e-commerce company.
By using e-commerce services, compliance can be maintained by your company.
E-Commerce services have disrupted the market and moved consumer preferences to buy products online.
Consumers have more options to purchase according to their preferences.
Requirements for starting an e-commerce business (e-commerce services)
Our experts at Enterslice have come up with specific requirements for starting an e-commerce company. Our e-commerce services comprise the following criteria.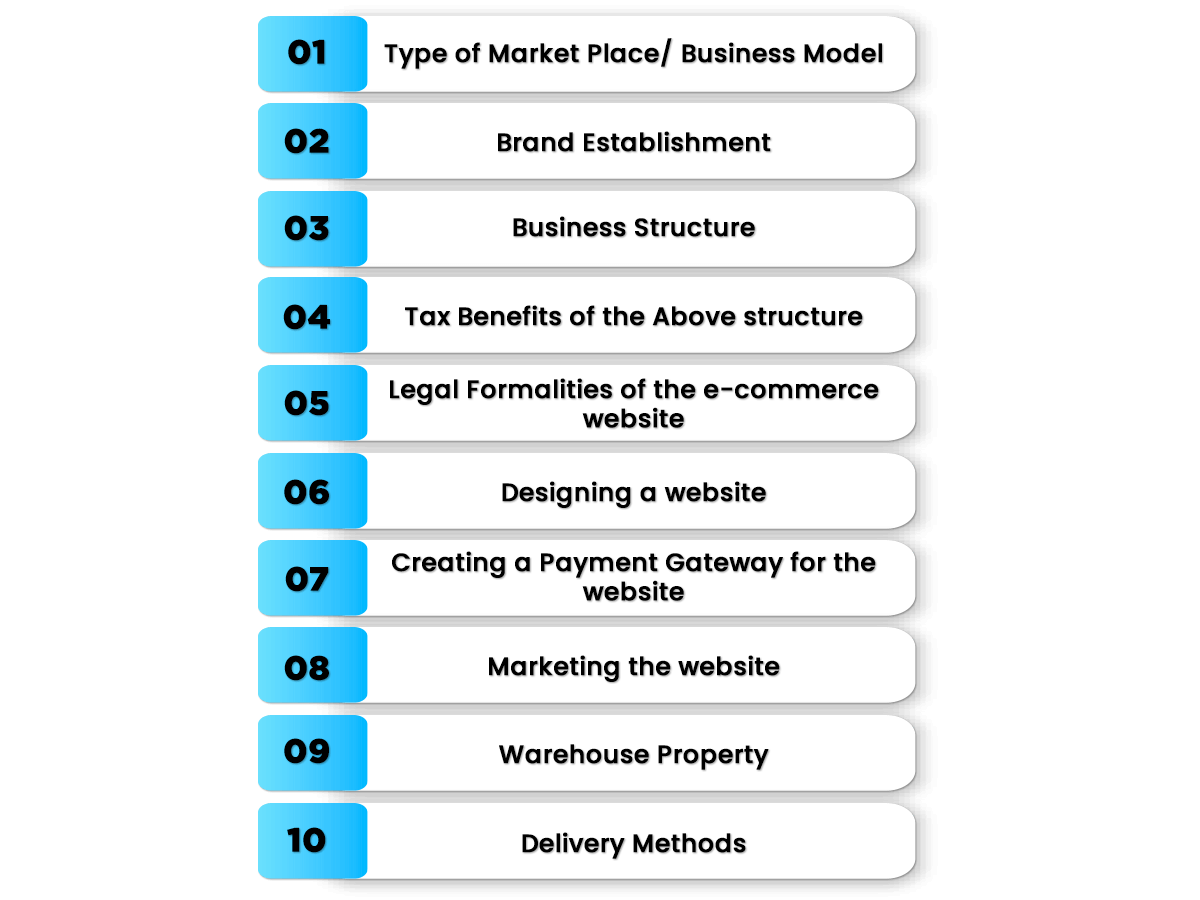 Type of Market Place/Business Model
As a part of the e-commerce services pack, we would advise you to consider the kind of marketplace and business model. The current market models for an e-commerce business are:
Single Vendor Model: From the term single-vendor model, there is only a single vendor selling products to their customers. Therefore in this model, there are only two parties; the buyer and the seller.
Advantages of the Single Vendor Model
One Seller and Customers-There are fewer transaction costs and administrative costs involved in this type of model. If you consider using this system and have your warehouse for sending the goods, this system is efficient.
Setting up costs will also be less.
More profit margins.
Multiple Vendor Model: As the name of the model states, there are numerous vendors and customers in this type of model. The multiple vendors register their products on the e-Commerce website.
Advantages of Multiple Vendor Model
Higher commission because more sellers will be registered on your website.
Apart from this, your e-commerce website would have continuous sales due to various suppliers.
Disadvantages of the Multiple Vendor Model
The transactional cost will be higher as there are more suppliers.
Warehousing costs would be more.
In light of the above e-commerce services, the Single Vendor model would be suitable for a start-up e-Commerce website. After a few years of margins, switching over to a Multiple Vendor Model would be appropriate. We also provide conversion of vendor models as a part of our e-commerce services.
Brand Establishment
After considering the market/model for your e-Commerce business, the next step is to think of a name for your business. There are specific requirements for the name of the business entity. We offer to assist in choosing the name as a part of our e-commerce services
The Brand name of the business must be:
Must be Appealing to the eye;
The name must relate to the services offered by the business;
Must comply with the Companies Act, 2013;
Must not be offensive/ undesirable / violates national emblems;
Abbreviations should not be used in a company name;
Name must be outside the registered office of the business in a conspicuous place of the business;
The name should be engraved in the common seal of the business;
Name, address, and Corporate Identity Number must be present in all the correspondences, emails, fax, and signatures of the business;
Name must be printed in Promissory Notes and other documents;
The name must comply with the laws related to the Copyrights Act and Trademark Law;
When a company is registered if it is a private limited company, it must be present (Pvt Ltd). For a public limited company, then (Ltd) must be present;
The Proposed name of the company must not be identical;
Names that are struck out cannot be used; and
Some names require approval from the Central Government.
How can an application of the name be made?
The name search can be carried out on the Ministry of Corporate Affairs (MCA Website). This is a name searcher with an index of all the names of the companies registered. The name can also be reserved using INC-1 Form- as per the Companies (Incorporation) Rules 2014
Business Structure
Choosing the right business structure for your e-commerce business depends on specific criteria. Our e-commerce services provide the following business structures:
Sole Proprietorship Model: The process of registering as a sole proprietorship business is simple. There are also minimal compliances in a sole proprietorship model. However, this type of model does not provide limited liability principle. The liability of the sole proprietor is unlimited.
Partnership Model: This model is like the Sole Proprietorship Model when it comes to the principle of liability. However, partnership business would have 2 to 3 partners with the intention of sharing profits. This model would not be suitable for starting an e-commerce business due to the disadvantage of the limitation of liability.
Limited Liability Partnership Model: This model is considered a mix between the partnership model and the private limited company model. The benefits of a partnership business can be enjoyed in this form of the model, along with the concept of limited liability.
Private Limited Company Model: The Private Limited Company model is the most suitable model for e-Commerce Business. There are lots of formalities in registering a company. There are also reporting requirements and having a specific amount of capital for a company. However, many entrepreneurs consider this form of business due to the advantages offered by this model.
OPC (One Person Company): This form of business structure was brought out in the 2013 Companies Act. There is only one shareholder who is also the director of the one-person company. There has to be a nominee named in case the person is unable to run the company. OPC also enjoys the advantages of limited liability.
Our e-commerce services also assist in choosing the right form of business structure.
Tax Benefits of the Above Structures
Our e-commerce services also provide advice on tax for different corporate structures. The following taxes apply for the corporate structures:
Sole Proprietorship
Under Section-80c, 80ccc and 80 CCD- If you have invested in any Investment Instrument specified in Section-80c, 80ccc, and 80ccd such as PPF Account, National Saving Certificate, Life Insurance Policy, Pension plans.
Long-Term Capital Gains Tax.
Deductions made for donation in case these are explicitly made to charities. This is available under section 80 G of the Income Tax Act.
Save Tax under Educational Loans.
Limited Liability Partnership
Not liable to pay tax on share and income.
Bonus, commission or remuneration, Interest to partners, any payment of salary, allowed as deduction.
Private Limited Company
Tax Rate slashed from 30% to 22%.
Depreciation is calculated on Plants and Machinery is 15%.
Digitization and E-Commerce companies can opt for a tax exemption scheme.
Legal Formalities of the e-Commerce Business
After the tex benefits, it is crucial for your company to consider legal formalities. The following are the compliances for registering a private limited company:
Registering a Private Limited Company
Submit the requisite documents for forming the company.
These documents can be uploaded and submitted in the Ministry of Corporate Affairs Website.
Memorandum of Association and Articles of Association.
Details of the Shareholders and Directors.
Amount of Capital that is required for the business.
Incorporating the business (Online)
Incorporating a company can be carried out through Simplified Performa which is done electronically (SPICe -INC-32).
The documents required for this is eMoA (electronic memorandum of association) (INC-33), AOA (electronic articles of association) (INC-34).
Most companies are required to be incorporated through SPICe only.
Other formalities
DIN- Director Identification Number
Persons who are intending to become a director have to apply for a DIN number.
SPICe Form: For a first director application must be made through the SPICe Form.
DIR-3 Form: An individual who wants to become a director of an existing company can make an application in eForm DIR-3 for allotment of DIN.
DIR-6 Form: Any changes of information about the directors shall be filed in form DIR-6.
Pan Card and Digital Signature Certificate.
Company incorporated.
GST registration.
ESI registration, Shops, and establishments registration and provident fund.
Certificate of Incorporation which is issued to the company.
Appointment of Auditors for the company under the CA 2013.
Legal Advisors/ Professionals.
Opening a Business Bank Account.
Designing a Website
After all the formalities are completed, it is crucial to develop a website. Our e-commerce services also include web design. Our team of professionals can guide you in designing your website apart from e-commerce services. The website should be accessible to all consumers. The following considerations must be taken while developing a website:
Using a prebuilt website
Building a website from scratch
Geographical factors of the website
Design
Building a website from scratch would take a long time. However, it would improve the brand value of the website. There is also an additional expense in developing the website. Visualizing the website in a way you think it would operate would be more appropriate for your business.
The next requirement is to manage the website and improvise it on a day to day basis. The website should be tested, and flaws should be identified. Products and pictures should be uploaded on the website.
Creating a Payment Gateway for the website
A payment gateway is required for your business to process transactions of customers. Our e-commerce services will also assist in forming a payment gateway. This comes as a part of our e-commerce services package. The following documents have to be provided:
Board Resolution / Authorization Letter for the Signing Authority duly signed and stamped by at least two Directors /Members on the company letterhead.
Cancelled cheque Original Copy, IFSC code, and Name should be printed.
Copy of Pan Card copy of the Authorized signatory duly signed and stamped.
Copy of Address Proof (Driving License/ Voter ID/ Aadhar Card/ Passport) duly signed and stamped.
Copy of the company's pan card duly signed and stamped by an authorized signatory. Copy of Company's Govt. proof of the firm duly signed and stamped.
Copy of Form 18.
Marketing the website
Search Engine Optimization (SEO): Apart from e-commerce services, we provide SEO optimization. Apart from online advertising using search engines, there are other modes of advertising. Marketing the website can be done via social media channels such as:
Face book.
Twitter
Instagram
Whatsapp
Traditional Marketing
Handling Pamphlets.
Brochures
Newspaper Ads.
Fliers
Warehouse Property
Property- If you do not have warehouse property, you would have to initially lease out the property. Our e-commerce services will guide on securing the property.
Commercial Properties are more significant for warehouses. Property insurance and insurance for products must be taken out.
Delivery Methods
Mode of Delivery
4 Wheelers.
2 Wheelers.
Other forms of transportation.
International Orders.
The above requirements are crucial for starting an e-commerce business in India. We also take pride in providing assistance in all parts of the process.
Enterslice Benefits- E-commerce services
Enterslice is a recognized industry leader in providing expert e-commerce services.
Experts at Enterslice have provided e-commerce services with the primary objective of adding value to your organization.
We have Multifaceted teams of professionals comprising Chartered Accountants, IT professionals, lawyers, and company secretaries and business executives.
How to reach Enterslice for E-commerce services
Fill The Form
Get a Callback
Submit Document
Track Progress
Get Deliverables