Overview of Cybersecurity Consulting Services in India
The cybersecurity sector is growing at a rapid pace. Globalization and advancements of technology have connected organizations around the world. With the increase in demand for technology, there are more amount of cybersecurity threats faced by an organization. Hence, an organization must use cybersecurity consulting services to meet the day to day challenges.
As per a report by the CAGR, the Cybersecurity consulting services sector is supposed to grow and provide more than 3 billion USD by 2022 in India.
Cybersecurity Consulting Services have set a footprint in India due to the following factors:
The increased amount of investment in the digital sector;
Increased threats to cybersecurity systems in India; and
Change in regulatory requirements for cybersecurity compliance in India.
The above factors have tremendously changed the requirements of cybersecurity compliance. Nowadays, when a company is formed, it is mandatory to have a basic cybersecurity compliance level.
Who is a CyberSecurity Consultant?
Cybersecurity consultant plays the following roles in an organization:
CTO- The cybersecurity consultant is the main contact for any form of IT or software problem faced by the firm. This consultant is also called a Chief Technology Officer of the organization.
IT Training- The Cybersecurity consultant must ensure that training is provided to all staff on cyber threats and technology prone risks in an organization.
What is Cybersecurity Consulting?
The role played by a Cybersecurity consultant will help the organization to overcome IT and Cybersecurity challenges. Cybersecurity consultants must ensure that the organization's software and data interface is devoid of any form of cyber-related threats.
IT and data protection interfaces come under cybersecurity. Therefore a cybersecurity consultant would streamline and integrate IT security within an organization. Without having cybersecurity consulting services, an organization is prone to cybersecurity and data breaches.
In this day and age, organizations must have two priorities. One of their priorities is to ensure that IT security is implemented throughout the organization to protect valuable company and customer details. Also, the organization must understand that they are prone to significant IT and cybersecurity threats.
Every organization should know that even the best IT interface within an organization would be susceptible to a cyber-attack or data breach. A cybersecurity consulting firm should be aware these issues are bound to happen. The approach taken by the organization should be proactive at handling such cybersecurity threats. A cybersecurity breach can have a critical impact on the resources of an organization. Hence cybersecurity consulting services are mandatory for every organization.
Scope of Cybersecurity Consulting
These services are essential in the organization for the following reasons:
To protect systems and servers from cybersecurity and data breaches.
To ensure compliance is followed by the organization regularly.
To keep the organization safe from any form of cyberattacks.
To ensure that employees are well informed about cybersecurity actions taken by a company.
To act in response to any form of a cybersecurity threat.
To provide a report on cybersecurity compliance carried out by the organization.
Regulation behind Cybersecurity Consulting
In India, there is no particular law that deals with cybersecurity consulting. An organization can either have an in-house cybersecurity team that deals with the challenges that arise as the organization develops. Apart from this, an organization can hire an external cybersecurity consultant to streamline an effective cybersecurity protocol.
No law regulates cybersecurity consulting in India. However, if an organization recruits a cybersecurity expert or consultant, they must follow the rules and bye-laws as per the International Standards Organisation (ISO). IT systems and cybersecurity officials must follow international standards for compliance under cybersecurity.
Apart from this, the company has to ensure that they are compliant with the below provisions:
The Information Technology Act, 2000.
The Information Technology (The Indian Computer Emergency Response Team and Manner of Performing Functions and Duties) Rules, 2013.
The Information Technology (Reasonable Security Practices and Procedures and Sensitive Personal Data) Rules, 2011.
The Information Technology (Intermediaries guidelines) Rules, 2011.
The Personal Data Protection Bill 2018.
GDPR – General Data Protection Rules 2018.
Eligibility Criteria for Cybersecurity Consulting Services
Any company- a large organization or a start-up can have access to cybersecurity consulting services. However, the following criteria have to be adhered for an organization to have a cybersecurity consultant:
An organization having an in-house team of cybersecurity experts have to make sure that they are qualified.
The Cybersecurity Consultant must ensure that ISO standards are adhered to.
Types of Cybersecurity Consulting Services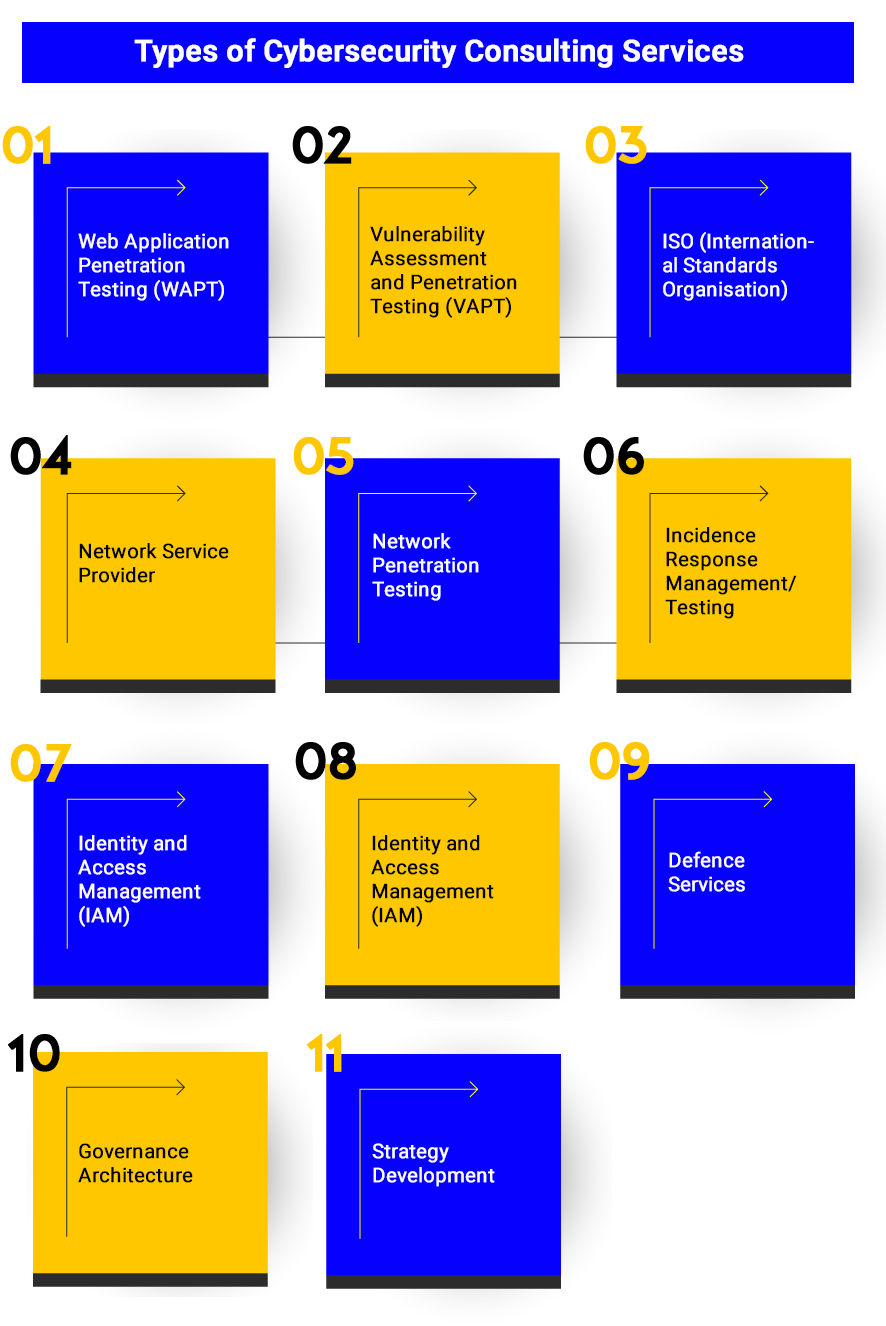 Web Application Penetration Testing (WAPT)
It is a form of a testing mechanism used by companies to determine any threats related to a website or web application. This method can be used by the organization to identify any other web applications which the organization utilizes. The organization would have to install the tool to carry out the WAPT. This can be carried out manually by the organization. Apart from testing, this tool is also used by the organization to understand the loading methods of websites and other applications.
Vulnerability Assessment and Penetration Testing (VAPT)
VAPT is a mechanism where flaws in an organization are determined. VAPT is a combination of two or more functions that are carried out by the software. One application will assess the facts on the danger posed by the software. The other application would determine if the software has any form of potential hazards on the software structure of the organization. If the software is vulnerable, then the application will debug the software and erase the software. This method is a suitable form of cyber consulting mechanism where a company can identify and assess cyber threats. Cyber threats in an organization can be internal as well as external. Hence, it is essential to have the VAPT installed to protect the servers from any form of threat.
International Standards Organisation (ISO)
These are specific standards that have to be followed by a company if there is a respective cybersecurity protocol. The standards of cybersecurity consulting have to be conducted as per international cybersecurity consulting standards. Under ISO, three forms of certification have to be obtained by the cybersecurity consulting firm. The following are the certifications which have to be obtained:
ISO 27001 Consultancy Certification- This certification ensures that there are proper security standards established within the organization. If an organization has this, then its IT framework is very efficient.
ISO 20000 Consultancy Certification- If an organization has this certification, it shows that the organization is continuously improving its development processes related to IT integration services.
ISO 22301 Business Continuity Management System- An organization with this certification will showcase its ability to effectively handle all forms of internal and external threats. This will include data protection services, cybersecurity threats, and privacy breaches.
Network Service Provider
An organization should not have any form of issues related to the network service provider.
Network Penetration Testing
This will include both wired and wireless penetration testing. Many businesses rely on wired services. However, due to digitization, businesses have evolved and depended more on wireless services. Messages are sent via smart wireless devices. Though it is convenient to send messages over wireless mediums, there are still a lot of issues faced over wireless communication. Hence network penetration testing will solve all the issues between communication mediums.
Incident Response Testing / Incident Response Management
This is another situational method used by an organization to understand cyber-related threats. A hypothetical situation is created by an organization depending on the circumstances. How the organization reacts would be the ultimate objective of this simulation. Acting responsively would indicate that the organization has streamlined IT and Disaster Management systems efficiently. Other methods used are forensics and any form of post-incident support.
Identity and Access Management (IAM)
In this method, the issue is first analyzed. After this, a solution is devised. Through this form of cybersecurity consulting, a firm would understand and identify the potential flaws in the servers. Such incidents will ensure that a cybersecurity threat would not happen in the future. The identities of working groups are classified for this purpose.
Threat and Vulnerability Testing
This is similar to VAPS, where two applications determine the threat by testing the software.
Defense Services
This will include the general defense that is carried out by the company to ensure there are no forms of cybersecurity threats or data leakages. The common threats will consist of malware, ransomware, and worms. Breach of personal data would also come under this form of service.
Governance Architecture
This would include the framework which encompasses cybersecurity, security, intelligence, data protection, development of programs related to security intelligence. This would also include the regulation of cybersecurity.
Strategy Development
Another type of cybersecurity consulting is strategy development. Planning is required for developing any form of strategy. The organization will develop strategies for effective IT governance.
How can Enterslice help in Cybersecurity Consulting Services
Enterslice is a recognized leader in providing cybersecurity consulting services.
We have experience in IT information management services, which will help your organization.
Enterslice can assist your organization by reacting to cybersecurity threats.
We have a team of trained IT professionals who can carry out effective IT and systems security audits to ensure your organization is free from cyber and data threats.
Our professionals will help your organization implement effective protocols related to cybersecurity and data privacy.
The compliance team will ensure you are compliant with the laws related to information technology and data protection.
We also offer cyber risk management services that are beneficial to your organization.
How to reach Enterslice?
Fill The Form
Get a Callback
Submit Document
Track Progress
Get Deliverables