What is Corporate Restructuring?
Corporate restructuring is also referred to as business restructuring. Business restructuring is a process in which an entity changes its legal structure to ensure the seamless running of the business. This process is usually carried out when the business is facing financial or economic problems. When a company is unable to pay a corporate debt, it enters into a restructuring agreement with its lenders. In this agreement, the company's strategy to pay the corporate debt would be mentioned. Creditors and Lenders are an essential part of the corporate restructuring process.
A company's inability to not pay a corporate debt is not the only reason for corporate restructuring. Other reasons can be a company entering into an acquisition agreement, or a joint venture or M & A process.
Overview of Corporate Restructuring Industry in India
Globalization has improved the financial landscape in India. The restructuring industry can be analyzed from two aspects. The two types of restructuring are financial restructuring and debt restructuring. The financial restructuring sector has improved due to globalization. The last five years in India have been attractive to the M & A industry. Hence the financial restructuring sector has progressed. When it comes to debt restructuring, it hasn't performed according to the expectation of investors. The Government of India paved the way to the Insolvency and Bankruptcy Code, 2016 (IBC 2016). Lenders benefitted from this legislation. This wasn't possible before the introduction of the IBC. This has paved the way for creating new strategies for restructuring debts for corporate debtors.
Forms of Corporate Restructuring

Financial Restructuring- Financial restructuring is a form of corporate restructuring strategy which is usually considered when companies merge or get acquired by another company. In this form of Restructuring, often, companies do not face any financial problems. The company is restructured as a result of a share sale or an asset sale in an acquisition. In a share sale, the entire share capital of the company is acquired. In an asset sale, only a specific asset is obtained from the selling company. Financial restructuring can also occur during an M&A process.
Debt Restructuring- Debt restructuring is usually used by a company to change its strategy to pay off a debt. A company may restructure its business, divest a particular subsidiary of the parent company, or raise additional capital to pay off a debt. A creditor or lender would typically allow the company to restructure itself when they have to repay a debt. In this form of restructuring, the parties would enter into an agreement that would bind the company's debtors. The amount of Non-Performing Assets (NPAs) and bad debts has made the government bring in the IBC. Due to this code, the number of bad debts has drastically reduced.
What are the Benefits of Corporate Restructuring?
Corporate Restructuring is carried out when a company requires restructuring its business to perform well in the market. There are specific benefits of restructuring:
It helps the company bring out new strategies to survive in a competitive environment.
When a company is facing financial stress, corporate restructuring procedures are used to change the financial strategy. Using this strategy, the company can reduce its financial burden.
Cash flow is one of the major requirements for a company to survive in the market. Without cash flow, a company will not pay its employees, suppliers, and third parties. Hence a company utilizes different forms of restructuring strategies to ensure there is sufficient cash flow and does not lead to business disruption.
Corporate Restructuring occurs when a company wants to restructure its debts and finances. When a company is being acquired or merged with another company, restructuring happens as a result of the acquisition of assets, IP, and employees of the other business. Through this process, the company can enjoy the benefits of synergies from different departments.
The restructuring also helps in improving the economies of scale and scope for a business entity.
Different Types of Strategic Corporate Restructuring
Based on the type of situation, corporate restructuring can be divided into financial restructuring and debt restructuring. However, the types of strategic corporate restructuring which companies enter into are as follows: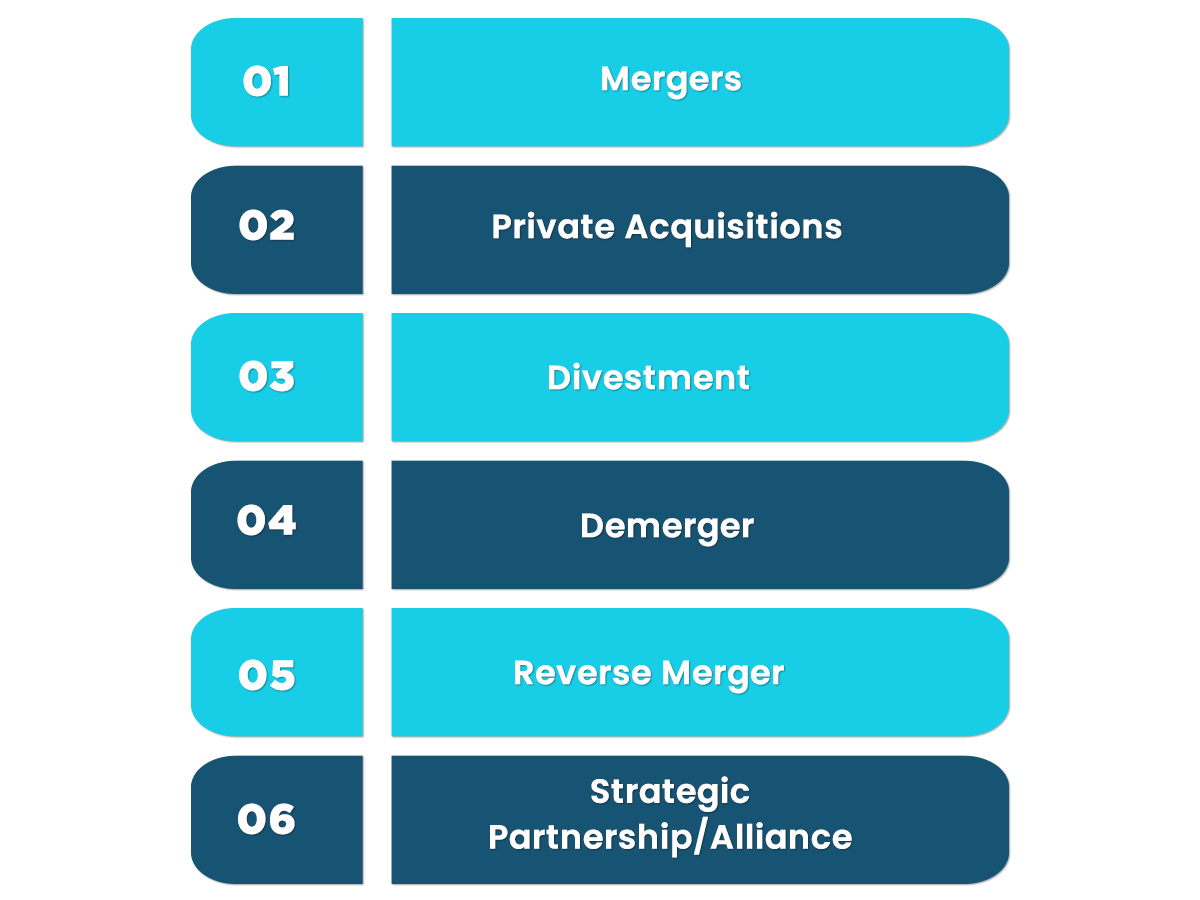 Mergers
Mergers are understood as a combination of two or more corporate entities. The principal reason for a merger is to enjoy economies of scale and economies of scope. In this form of corporate restructuring, the companies or organizations enter into a merger agreement, where the terms and conditions of the merger are decided. There are lots of complex formalities in the merger process. Expert advice from a transaction specialist is required in this process. At Enterslice, we have experienced M & A experts who can advise you throughout the process. A company merges with another company, just to improve its business. Apart from this, there are different forms of mergers:
a) Horizontal Merger- Horizontal merger is a process in which two companies are operating in the same levels of a production merge.
b) Vertical Merger- Vertical merger is a process where companies merge who are in different phases of the production cycle.
c) Conglomerate Merger- Conglomerate merger is a process in which companies in different business merge.
d) Cash Merger- A cash merger is a process in which one of the companies acquires the other company for a specific amount of cash.
Private Acquisitions
A private acquisition is a process when a company acquires another company. This process is also known as a takeover. A takeover process can be either a friendly takeover or a hostile takeover. In this transaction, there are three parties. The parties are the buyer, seller, and the target company. Private acquisitions normally occur due to increased benefits such as synergies, economies of scale, and economies of scope. The acquisition process is complex and requires expert advice. Our professionals at Enterslice will ensure that you face seamless corporate restructuring services in an acquisition process. There are two forms of acquisitions:
Share
This is normally referred to as a share sale. In a share sale, the buyer acquires the entire share capital or a portion of the share capital of the seller or the target company. When a company is acquired as a result of a share sale, all assets and liabilities are transferred to the buyer.
Asset
This is usually referred to as an asset sale. In an asset sale, the buyer has the advantage of acquiring a specific asset. Hence through this process, the buyer can cherry-pick the assets of a company. One of the advantages of an asset sale is the buyer can leave the liabilities with the seller and only purchase the important assets of the target company.
Divestment
Divestment is a process in which a company sells off its subsidiary. Through the process of divestment, the company can reduce the number of debts. This type of strategic corporate restructuring is used in financial restructuring processes as well as debt restructuring processes. In the divestment process, the parent company will usually liquidate or wind up the subsidiary company's operations.
Demerger
This is a form of restructuring where the company divides into two separate groups. In this process, the synergies which are earlier enjoyed by the two entities are divided. A company demerges due to restructuring, reducing the financial burden, and other factors. Optimum capacity is reduced through the demerger's process, making the company produce the required amount of profits to run the business.
Reverse Merger
In a reverse merger, the private company gets different forms of benefits. A public company acquires a private company in a reverse merger. Due to this, the private company does not need to go through the entire process for applying its shares to be listed in a stock exchange. This form of corporate restructuring is to improve the private company's business without going through the entire process of applying for an initial public offering.
Strategic Partnership/Alliance
Strategic Partnership is also known as an alliance. In a strategic partnership, the companies partner to carry out business. However, a strategic partnership is effectuated through one or more contracts. The partnership is binding on the parties. However, a strategic partnership does not have the effect of a normal partnership or a registered company. A strategic partnership must be differentiated from a joint venture. In a joint venture, two or more companies agree to share profits for a particular period or until the project's execution. Once the period is over, the parties can resume carrying out their businesses.
Applicable Law for Corporate Restructuring Services
The following laws would govern business restructuring services:

Companies Act 2013 or Companies Act 1956- Section 233 (of the CA 2013) deals with the process in which companies can opt for a fast-track merger.
Insolvency and Bankruptcy Code, 2016- When speaking about debt restructuring and financial restructuring, the IBC code deals with the aspects of resolution and liquidation.
SEBI (Securities Exchange Board of India) Laws -When a company wants to go for a reverse merger or list its securities within a stock exchange in India.
Procedure for Restructuring
Restructuring an organization is a complex task. The form of restructuring would depend on the main aims of the organization. If the company is paying off a debt, then a different restructuring process will be used. If a company getting merged with another organisation, then the criteria would be different. The following steps have to be followed in a restructuring process:
In this phase, the main objective of the restructuring exercise is determined. If the restructuring process involves paying a corporate debt, then the debt restructuring procedure can be used. At Enterslice, professionals will determine your business's needs and guide you to carry the proper procedure to restructure your business.
We help your organization identify the strengths and weaknesses. Through thorough research, we establish the need to concentrate on improving the business's strengths.
Once we analyze your business's strengths, we implement the procedure with the collective strengths of your business. While carrying out this process, we identify potential problems that can be addressed at an early stage in the restructuring process.
Post-Implementation Analysis
We conduct a broad-based analysis of the restructuring exercise and understand the effects.
Evaluation of Restructuring
In the last step, we monitor your organization and provide post-compliance reporting.
Enterslice Advantage
Enterslice is a recognized management consultant in providing restructuring services.
Experts at Enterslice have immense experience in handling restructuring processes for NBFCs and Fintech Companies.
We have multifaceted teams of professionals comprising Chartered Accountants, IT professionals, lawyers, and company secretaries.
How to reach Enterslice?
Fill The Form
Get a Callback
Submit Document
Track Progress
Get Deliverables