What is NGO Registration?
NGO or Non Governmental Organizations are a non-profit organization that is incorporated to support the underprivileged section of the society. It works for the advancement of different issues like social, cultural, legal, environmental, art, science, etc. As the name Non-Government Organization suggests, they are operated by citizens on voluntary initiatives without any interference from central or state governments.
Need for NGO Registration
You are recommended to get the NGO Registration done if you are willing to establish a non-profit organization and work with an objective towards the betterment or advancement of any particular section of the society. Getting NGO Registration provides legal authority to the entity and makes it more credible in the eyes of the law and contributors.
In India one can go for NGO registration in three legally possible ways;
As all three NGO models are regulated by separate acts there are many distinct features of every model. One can choose a working model based on their personal requirement and preference, along with scale and diversity of operations. We will discuss this in detail in this article to ensure some clarity for you.
NGO Registration Procedure in India
Here, we have provided a glimpse of the registration procedure for NGO all the available legal entities.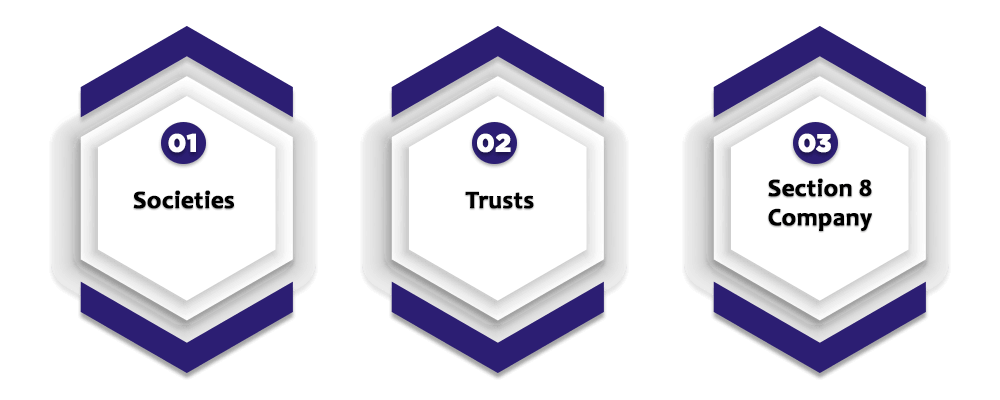 Societies Registration
A society is formed mainly for the promotion of science, arts, commerce. All the activities conducted by society are non-commercial. Therefore activities conducted by society are for non-profit purposes. Societies are regulated under The Societies Registration Act, 1860.
If you are planning for registering an NGO in the form of a Society you are required to follow following simple steps:
STEP 1: Choose an apt name for your NGO

STEP 2: The State Governments concerns with registering NGOs in the form of Society. You need to submit 2 copies all the prescribed documents to the Registrar of the Societies of the State Government

STEP 3: After evaluation of all the documents submitted by you, the Incorporation Certificate along with an NGO Registration Number will be allotted, is the authorities finds everything to be correct

STEP 4: The process of allotment of Incorporation Certificate generally takes about a month to complete
Trusts Registration

Trusts are divided into Private Limited Trusts and Public Limited Trusts:
Private Limited Trusts: Private Limited Trusts are formed for conducting activities for the individuals, family, or close ones. This can include close individuals who form the beneficiaries of private trust. The Trusts Act, 1882, governs private limited trusts.
Public Limited Trusts: Public limited trusts are typically formed where the beneficiaries include the public at large. Usually, public trust will be established for charitable, educational, and religious purposes. In India, the most common public trusts are charitable and religious trusts.
As per Indian trust Act following are the minimum requirement as a Trust in India;
Clarity as to for what purpose it is created
Intention to create a Trust
Clear definition of the beneficiary
Trust property assigned by the assignee
Once all the above-required pre-requisites are met with you can proceed by following these basic steps;
STEP 1: Draft the Trust Deed

STEP 2: Choose an appropriate name for your NGO

STEP 3: Determine the settler, minimum 2 trustees, and a clear definition of who will be the beneficiary.

STEP 4: Prepare the MOA and by-laws and execute a proper trust deed containing all the key provisions and clauses.

STEP 5: The Trust Deed must be executed on stamp paper of sufficient value based on the value of the property assigned to the Trust.

STEP 6: Finally, the Trust Deed must be signed by all the trustees and settlor and registered with the Local Registrar of the area in which the registered office of the NGO is located.
Section 8 Company Registration
Private limited companies can be under section 8 of the companies act. However, these companies cannot carry out businesses to make profits. Companies formed under this have the objectives of promoting education, crafts, science, arts, sustainability development, and environmental activities. These companies are not allowed to declare any form of a dividend. All revenues earned by this company have to be reinvested in the company for development purposes.
If you are planning for registering an NGO in the form of a Section 8 Company, then there are certain additional formalities that are required to be met with. Following steps are involved in the form of a Section 8 Company:
STEP 1: Choose an apt name for your NGO and make sure that it does not resemble any already registered company or Limited Liability Partnership. This proposed named must be filed for reservation through Reserve Unique Name facility available on the MCA portal. Maximum 2 names can be filed through in one go.

STEP 2: Once the name is approved you are required to prepare the MOA and AOA of the organization along with some other required documents like projected Profit and loss statement, statement of assets and liabilities, a brief description of work, etc.

STEP 3: File incorporation application in SPICe Form along with the required document as attachments.

STEP 4: After proper verification of the application Certificate of Incorporation (COI) and License will be issued. This COI will contain the Company Identification Number (CIN) along with the Company's PAN & TAN number.
Most preferred type of Entity
Before going ahead with the preferable entity to be formed, it is crucial to analyze the differences between the three structures. All the above types of NGOs are formed for not conducting any profit activities. Even if profits are earned, they must be invested in the NGO. Out of the three types, there is more compliance for section 8 company under the Companies Act 2013.
The following compliances have to be carried out by a section 8 company:
Have a board meeting.
Disclosure of any form of interest.
Provide notice that the directors of the company have not been disqualified.
This form of company has to file the resolutions carried out in the board meeting.
Appoint statutory auditors.
Provide a report on the audited financial statements of the company.
In light of all these compliances, it is beneficial to form an NGO as a society or a trust.
Factors Influencing the Choice of Model for NGO Registration
In current world many good Samaritans are realizing the need and value of upliftment of underprivileged and recognition of other important social causes. With an intention to help large section of society is engaging in social causes and plans to set up nonprofit organizations.
In the process of NGO registration, the first crucial decision among many is to choose the type of model among trust, society and Section 8 Company. As we have discussed earlier, there are multiple options available and one is required to narrow down their choice. This choice is influenced by many factors which we will discuss in brief here.
Following factors play a vital role in choosing the legal status for NGO:
What's your Orientation?

Apart from the fact that NGO is done for charitable purpose one has to clearly define the purpose or vision of the organization. The vision also influenced the choice.

Level of Operation

Another crucial factor will be the operational level of the intended organization. The scale of operation is important point of consideration. Therefore, if the area of operation will be regional, state-level, national etc. must be decided beforehand.

Structure of the organization

Structure of the organization is also being determined before initiating NGO registration. If the contributors are different from the actual management then Section 8 Company is a better option from a society and vice versa.

Compliance Requirements

Before making a final decision regarding NGO it is required that one must consider all the compliance requirements for different types of set up. As in case of Section 8 Company annual compliances under Companies Act, 2013 are a mandatory requirement, Trust and Society do have any such annual compliance requirements.
How Enterslice helps you to get NGO Registration?
Fill The Form
Get a Callback
Submit Document
Track Progress
Get Deliverables