What is International Trademark Registration?
International Trademarks are regulated by World Intellectual Property Organization (WIPO). WIPO is an agency established by United Nations (UN) in the year 1967 with an objective of protection of intellectual property throughout the world. International trademark registration and administration is regulated by a combination of WIPO treaties as well as other national and regional laws. Apart from national and regional laws following trademark related treaties regulate the legal framework of international trademarks.
Paris Convention adopted in 1883
Madrid Agreement (Marks) concluded in 1891
Madrid Protocol concluded in 1989
NICE Agreement concluded in 1957 which established the NICE Classification
Vienna Agreement it defied figurative elements of Marks
Singapore Treaty of 1994
Trademark Law Treaty
Nairobi Treaty
Madrid System for International Trademark Registration
Madrid system is a centrally administered international trademark registration system which facilitates trademark registration and management on a worldwide level. This system finds its legal footing in Madrid Agreement which is multilateral treaty for international registration of marks executed in 1891 and Madrid Protocol established in 1989.
One can register an international trademark through Madrid System in multiple jurisdictions at the same time. This does not mean that it will be unified registration; it will create a bundle of national rights through one application which can be administered centrally. This is a simplified and convenient method through which one can file a single application and make payment of a single set of fees for registration, protection, and management of trademark in 117 countries which are members as contracting party. Starting from a start-up to a multinational organization, anyone can file for international trademark registration irrespective of the size of an organization.
Benefits of the Madrid System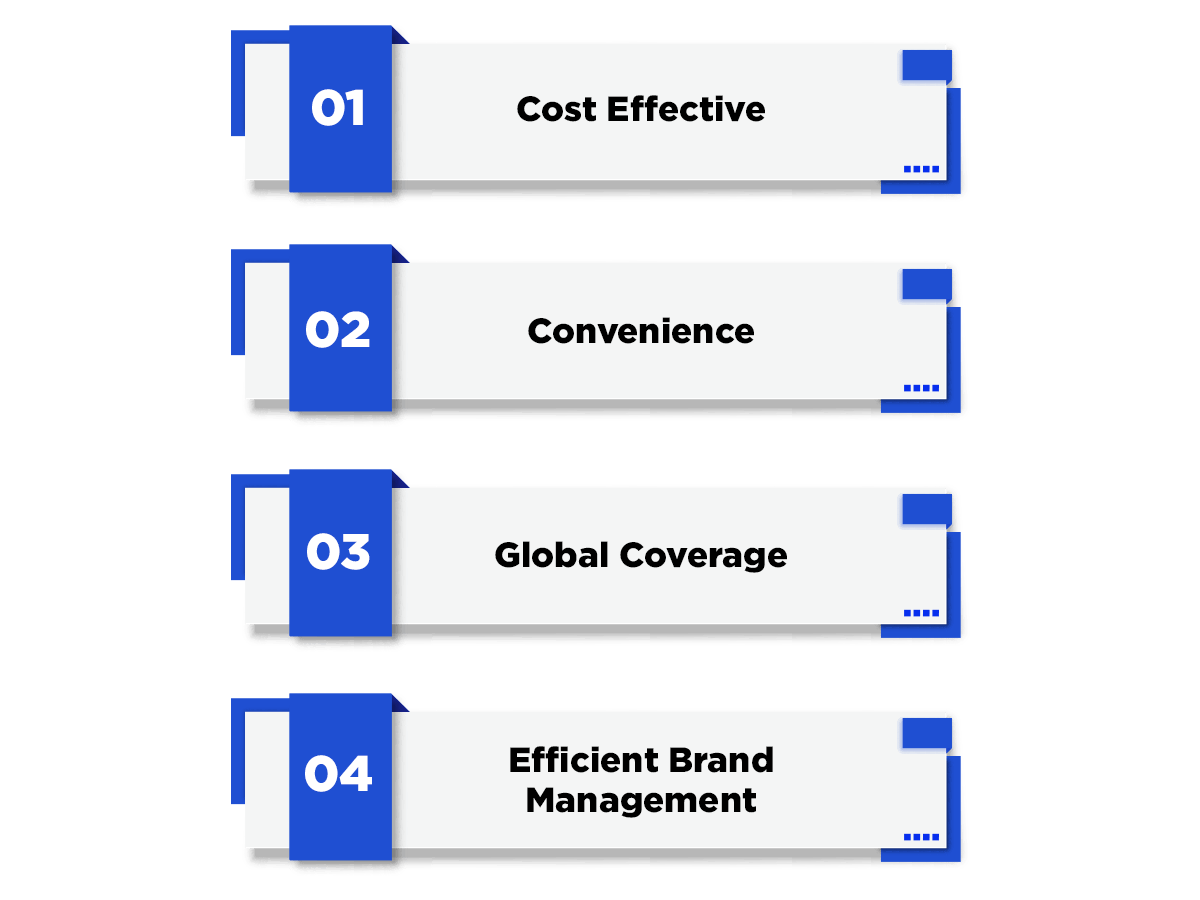 Cost Effective

One of the most important benefits of Madrid System is that helps one avoid the unnecessary costing. Under this system, only one set of fees is required to be paid. The benefits are not only in terms of money but a lot of time and efforts are also saved. No separate applications are required to be filed for every jurisdiction one wants to protect their mark in.

Convenience

This system provides a platform for centralized registration and management of trademarks on a global level. Filing a single application is sufficient and it eliminates the need to hire local representatives in different territories and language barrios. After registration, all the further changes can also be executed through the Madrid System.

Global Coverage

One of the many benefits of Madrid system is the wide coverage on the global level. It covers 117 countries and represents around 80% of the world trade.

Efficient Brand Management

This simplified international trademark registration procedure helps the organization to ensure its brand efficiency. One can protect their brand name in multiple territories through this centralized system.
Who is eligible to use Madrid System?
Anyone who has any kind of personal or business connection with any of the member of the Madrid's system is entitled to file an application for registration under this system.
Now the question arises who are the members of the Madrid system. There are total 101 members of the System which covers 117 countries in total. These members are contracting parties of the above stated Madrid Agreement and Madrid Protocol. You can check the list of all the member of the Madrid System on the official website of WIPO.
System of International Trademark Registration
The system of international trademark registration consists of three very important parts. Here we have listed out these three parts in precise
Part I: Trademark Search

Before making an application for international trademark registration it is recommended to make sure that no similar trademark is registered. The applicant can do that by searching on the WIPO's Global Brand Database and ensure that no similar mark is registered in any of the target markets the applicant is planning to make the application form. This search can be based on the following 3 factors:

1. Text used in the trademark

2. Image used in the trademark

3. Goods or Services class it is to be applied for

Part II: File Application for Registration

Once you have verified the availability of the trademark you are willing to make an application for international trademark. the most important prerequisite is that the trademark is either already registered or applied for in the office of origin (the home country). One can opt for the easier process of international trademark registration and file through Madrid System if they are a native of an eligible country. The application is to be filed with the local trademark office of the country of origin and they forward it to WIPO after due verification. It is further analyzed by WIPO office and the institutions of the countries it is applied for. We will discuss the registration procedure, forms to be filed and fee structure later on in detail.

Part II: International Trademark Management

Once the international trademark is successfully registered its proper management is very important. Trademark management has been made very simple and centralized under the Madrid System. Very clear rules are specified along with proper forms for every feature. Trademark Management involves following aspects:

1. Renewal of Trademark every 10 years

2. E-payment of fees

3. Expanding the geographical scope via filing in more countries

4. Appointment of a new representative

5. Transfer of Ownership

6. Cancellation of trademark
Fees for international Trademark Registration
Under Madrid System the applicable fees for processing application for international trademark application constitute of three elements;
The basic application fees; this is for the mark to be registered
A complementary fee for every contracting party (country) the application is made for i.e. the jurisdictions one wants to protect the mark in. In some cases, these complementary fees are individual fees.
A supplementary fee for every class of goods or services trademark is applied for There might also be certain handling charges imposed by office of origin for verifying and forwarding the application to WIPO. In India, these handling charges are set at Rs. 2000.
Classification of Goods and Services under WIPO
As per the NICE Agreement executed at the Nice Diplomatic Conference conducted on June 15, 1957, an international standard of classification of goods and Services is established for the purpose of registration of marks. This standard of classification is known as Nice Classification also termed as NCL. This classification is based on classification prepared by BIRPI, the predecessor of WIPO in the year 1935.
Initially, this classification consisted of 34 classes of goods and services. Over the years this list has been revised a few times. Its latest version of the eleventh edition was enforced on January 1, 2018. This latest version consists of total 45 classes (34 of goods and 11 of services).
For the countries which are a part of NICE Agreement use of NICE Classification is mandatory not for national registration of marks as well as for international registrations.
Pre-requisites for Registration
If you are planning to file for international trademark registration it is a mandatory requirement that you have either already registered or have applied for same trademark in the Intellectual Property Office of the country of origin i.e. the country from which the application will be filed from.
The person planning to apply for international trademark registration must have either a personal or business connection with at least one of the contracting parties of the Madrid System. the country they have such connection with will be the place they will apply from i.e. office of origin. This connection can be defined in any of the following forms;
The applicant is a domicile of the contracting party
The applicant is a citizen of the contracting party
The applicant has a business in the contracting party. Such business can either be real or effective industrial or commercial establishment.
Procedure of International Trademark Registration under Madrid System
International Trademark Registration procedure consists of the following steps;
First Step: Filing of Application

The application for registration is submitted through Application Form MM2. For all the international applications in which USA is specified as a designated party an additional form MM18 (Declaration of intention to use the mark) is required to be submitted along with MM2. These form must be properly filled and submitted along with the required attachments to the national or regional IP Office of the office of origin. The IP Office might charge some handling charges for the same which might vary from country to country. In India these charges are Rs. 2000.

Second Step: Certification and Forwarded to WIPO

After receiving the application the national or regional IP Office as the case may be will certify the same and status of the registered or applied trademark and forward the same to WIPO.

Third Step: Formal examination by WIPO

WIPO conducts a formal examination of the application forwarded to it. If it is convinced about its validity then the trademark is approved and recorded in International Register. Once they are recorded they are simultaneously published in the WIPO Gazette of International Marks.

A certificate of registration is provided to the applicant and IP offices of the jurisdiction one have applied for are intimated by the WIPO.

Fourth Step: Further examination by IP Office of Contracting Party

After receiving the intimation of such registration the respective IP Offices are required to examine the application based on their laws and related rules and regulation and inform the WIPO within 12 to 18 months of what their decision is. This decision is recorded in the International register and the applicant is notified of the same.
How Enterslice helps you to get Interrnational Trademark Registration?
Fill The Form
Get a Callback
Submit Document
Track Progress
Get Deliverables