Inbound and Outbound Investments in India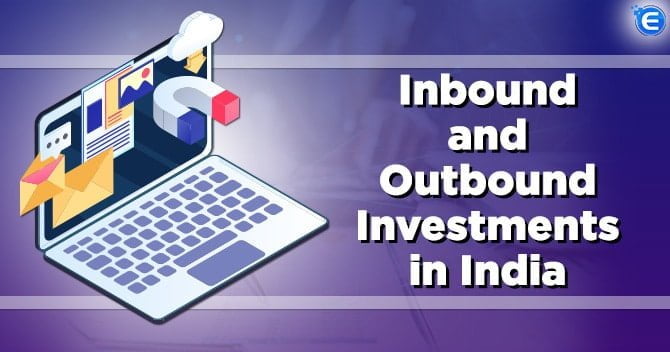 The categories of different investments are Inbound and outbound. Inbound investments refer to the investment made in India by another country in any sector. Various policies of the government have attracted foreign investments in India. Information technology (IT) and Information Technology enabled services (ITES) are the sectors that have benefited the most by inbound investment. India being an emerging superpower, the foreign investors want to invest in India, and there are a vast number of opportunities in India. Industrial policy has brought massive reforms in Foreign Direct Investment in India. These foreign investors understand and realize the benefits that Indian markets have; therefore, they invest. Foreign investment is allowed in all sectors except for certain prohibited sectors like defense and atomic energy.
Import of capital goods at concessional customs duty, liberalization of commercial borrowing norms, tax holiday, and concessional tax treatment for few sectors etc. are some of the incentives to boost investments. New FDI policies of the government have brought a good amount of investments into India. Another reason why inbound investments are favored is because of the profitability of the business for investors due to the liberal industrial policy. Inbound investment generates employment and facilitates the flow of foreign currency.
Foreign Investments are classified as Foreign Direct Investment, Foreign Portfolio Investment, and Foreign Institutional Investment. Where investment in a business in India is made by a foreign country, it leads to FDI. Foreign Portfolio Investments are made by foreign entities and non-residents in Indian securities including shares, government and corporate bonds etc. Foreign Institutional Investment is made by developing economies.
As far as outbound investments are concerned, most of the commercial sectors and economies have provided opportunities for extensive investments in different financially secure and profitable sectors. Indian firm's underlying investments in foreign countries are through mergers and acquisition activity. Investments from Indian companies may rise further due to a stable market and significant impact of the investments on local economies. Investments in foreign companies are valuable to the economies of both countries. Outbound investments provide access to foreign markets, thereby raising business opportunities. It gives access to useful resources that can be bought at low prices by investing in a foreign land. The cost of production can also be saved in outbound investments.
An Indian company seeking to make investments outside India can make it through the Exchange Earners Foreign Currency (EEFC) account or by utilizing the amount raised by the issue American Depository Receipt (ADR) and Global Depository Receipt (GDR) by the Indian company. It may be noted that outbound investments depend upon the country where the investment is made. The Indian regulations grant the permission to allow inbound and outbound investments form India to overseas companies, government bonds, joint ventures, etc. for overseas businesses they need to settle in India and understand the concept of cross border taxes and regulatory challenges. The government has made numerous policies to attract foreign investment into India in various sectors. They provide tax benefits to woo foreign investors to make investments in India.