Fraud Risk Management- An Overview
Fraud Risk Management is a systematic method in which frauds are reduced in an organisation. Frauds can only be reduced if there is a process where, the fraud is detected at an early stage. Once the fraud is detected, measures have to be taken in order to mitigate the fraud. This is known as Fraud Risk Management.
As per a survey, majority of organisations do not develop due to the increase in Fraud. Hence it is crucial to have an effective framework to handle frauds in an organisation. When a framework is developed related to fraud risk management, then organisations would follow defined protocols to mitigate and reduce risk.
Detection of a fraud is important for an organisation. If there is a protocol for detecting such fraud, then an organisation can effectively tackle its way during a crisis. Hence it is important to have such framework related to fraud risk management.
Benefits of Fraud Risk Management
An organisation can derive different forms of benefits by having a framework related to fraud risk management:

Early Detection

Having such a framework would help the organisation determine and detect the risk prone to the organisation. Detection of a fraud is important for an organisation. If there is a protocol for detecting such fraud, then an organisation can effectively tackle its way during a crisis. Hence it is important to have such framework related to fraud risk management.

Prioritise Other Goals

An organisation can delegate the risk functions to other departments. Hence by carrying this out the company can focus and prioritise on other tasks.

Compliance

Compliance with the protocols related to fraud risk management would effectively help in increasing the productivity of the organisation. This would also increase the reputation of the organisation in terms of public.

Protection of Reputation

When it comes to reputation, then it is hard to secure this. It takes time to develop reputation and trust in the minds of the public. However, with a fraud such reputation can be diminished within seconds. Hence through this framework of fraud risk management and anti-fraud services, an organisation can effectively protect its reputation.
Types of Fraud under Fraud Risk Management
Under the framework of fraud risk management, there are different forms of frauds. It is important to determine the types of fraud associated with an organisation. The following frauds would affect the organisation: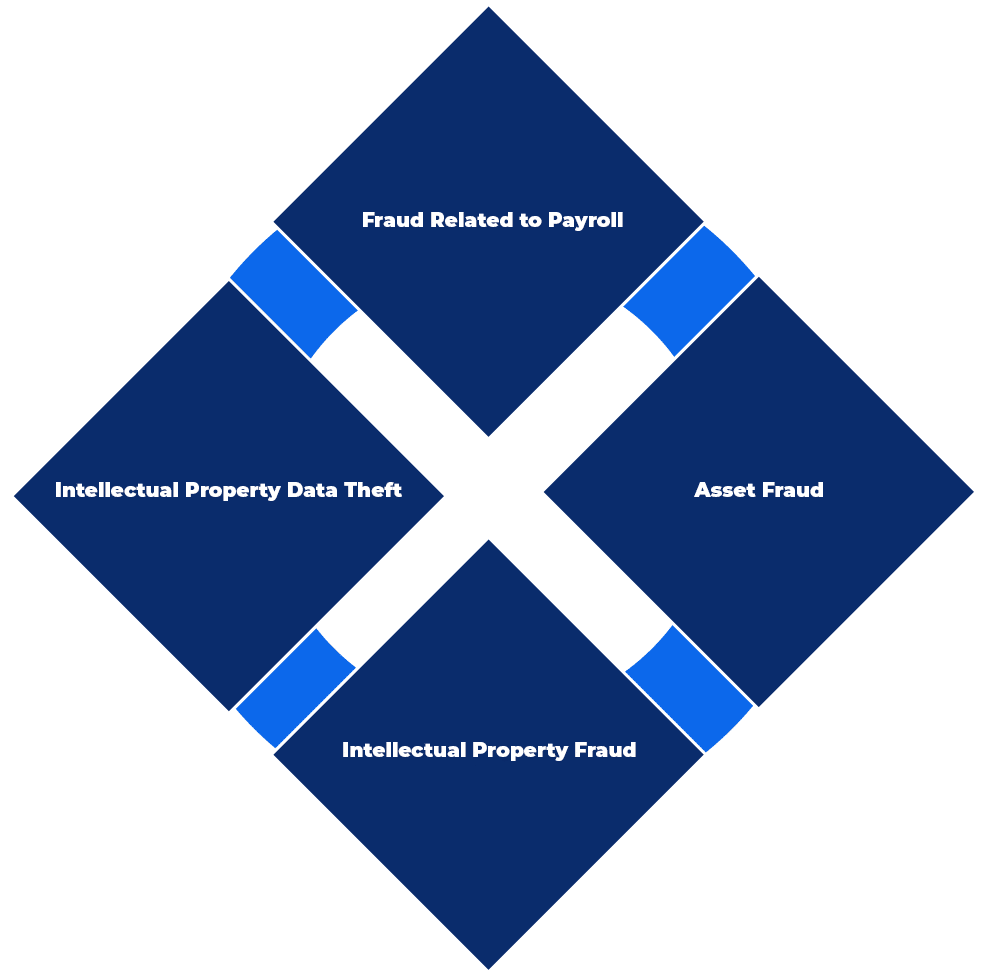 Fraud Related to Payroll

This would be when a department or a particular individuals, deceives the organisation by putting more time of work and sales. However, the actual productivity of the department is less. This can be reduced by streamlining the work through database or performance status.

Asset Frauds

This type of fraud is common in an organisation. Missing inventory or increasing the amount of stock can lead to this form of fraud. Effective stock taking can reduce this form of fraud.

Information Technology Fraud

This is a common fraud which occurs in an organisation, if there is no form of cyber security protocol in an organisation. Such threats can be avoided if there is an effective cyber security framework in an organisation.

Intellectual Property Data Theft

Intellectual property and Data Theft is another type of fraud present in an organisation. A data protection framework would be present for an organisation to ensure such form of fraud is mitigated.
How can Fraud Risk Management be carried out?
Fraud Risk Management cannot be implemented in a day and be followed over a period of time. It time and effort to implement and improve the process in order to develop a framework for fraud risk management. The following are essential for the development of fraud risk management:
Governance- A framework related to governance of fraud risk management must be made and carried out in an organisation. Such framework must be written down and policies must be provided throughout the organisation. Such policies must be effectively streamlined throughout the organisation. There has to be a chief governance officer for determining such policies and the respective roles and responsibilities of all the employees.
Risk Assessment- Risk assessment is crucial in an organisation. It would help develop policies related to risk assessment. If the risks are prone in an organisation then having such procedures related to assessing risk would be carried out. Assessing fraud risks necessarily involves looking at how employees—including top management—interact with the resources of the organization. A real life risk based testing must be carried out to understand how the organisation tackles the risk.
Prevention of Fraud- Next step would be determining the fraud and taking all the necessary steps to prevent the occurrence of such fraud. Preventing fraud is far preferable to detecting it after the fact. In practice, the same systems and controls established to prevent fraud may help in detecting it (e.g., segregation of duties for a certain procedure may help boost the chances that someone will be in place to report potential fraud).
Detection- Detection is a crucial step in the fraud risk framework. Hence it is important to detect the fraud first before having framework to mitigate such frauds from occurring.
Continuous Monitoring- Monitoring is required to tackle the fraud. Without monitoring, frauds can occur constantly in an organisation. One of the key elements in the initial planning for a fraud prevention program is to set up responsibilities and processes to ensure that timely information is reported to someone who can address a problem.
Roadmap to Fraud Risk Management
We follow a 360-degree approach which includes continuous improvement to diagnose, detect and respond to the fraud which can be done by following the below steps:
Diagnose Vulnerability to Fraud
Evaluate the current situation and organization's control over anti-fraud control environment which involves assessing the culture, attitude, and awareness among the employees about their knowledge and response related to the issues of fraud or misconduct.
Detect gaps in anti-fraud controls
Estimate management's existing fraud control framework to detect potential gaps in the fraud controls and establish fraud risk policies through analysis and evaluate the risk of fraud on the basis of ranking (high/medium/low) against existing anti-fraud controls.
Suggest solutions to mitigate Antifraud controls
Recommend enhancement of existing controls to mitigate the risk to be implemented on the basis of anti-fraud controls.
Periodic Monitoring
Enable continuous checking of the controls with the help of technology, performing forensic data analytics periodically at the process level to alert the management of fraud signals.
Develop a Fraud Response Plan
Develop a fraud response plan to:

To address cases of confirmed fraud

To investigate cases of alleged or confirmed fraud
Key Services under Fraud Risk Management
1. Fraud awareness workshops & training
These sessions can help to be conscious of potential fraud indicators. These can be customized as per specific organization or company which helps the participants to learn to directly apply working concepts, take away measures and tools to mitigate the fraud risk and promote the ethical environment. Training includes expert speakers, video presentations, group discussions among the employees and role-play exercises
2. Fraud Risk Assessment implementation
We guide in management and development of fraud prevention strategies by identifying the risk and their weaknesses in their process and evaluate potential gaps in the framework. This can be achieved through in-depth knowledge of the sector, customized data analytics report results of which are often unexpected by the management. Further, a dashboard of anti-fraud control can be implemented which help to monitor the testing can control on ongoing basis.
3. Forensic Health Check
It will help in quick and easy due diligence procedure for organizations who do not follow a comprehensive Fraud Risk assessment approach. Sometimes a basic check would suffice to assess the organization's health in terms of fraud.
4. Organization's Perception Survey
These type of surveys is a popular way to measure the employee's point of view on the current status of risk management program and processes implemented in the company related to fraud. This type of surveys helps the management to identify its strengths and weakness which enable to improve the fraud risk management planning.
5. Ethics Helpline
Our ethical helpline team provides assistance to the employees as well as any third party associated with the organization by providing them with independent channel to report unethical practices.
6. Risk Assessment and Fraud Vulnerability Tool
This tool helps to evaluate organization's attentiveness towards fraud as quickly as possible. This diagnostic tool is quite popular and allows a quick response to assess the fraud in an organization.
7. Anti-Counterfeiting Risk assessment
We can assist in developing and implementing an effective anti-counterfeiting framework.
8. Competition Risk Management
We help the client to understand key compliance aspect and potential risk of violation of the Competition Act, 2002.
Enterslice Advantage- Fraud Risk Management
Enterslice main aim is to add value to you business.
Our team of professionals comprising of Chartered Accountants, Company Secretaries, Lawyers, Information Technology Professionals.
We have experience in handling fraud risk management protocols.
Constant monitoring and 24*7 customer service.
How to reach Enterslice for Fraud Risk Management
Fill The Form
Get a Callback
Submit Document
Track Progress
Get Deliverables